by Pam Martens and Russ Martens
Wall Street on Parade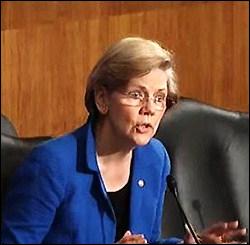 While Elizabeth Warren attempted to deliver her keynote speech at the Democratic Convention in July, which included an unabashed endorsement of Hillary Clinton, after Warren had failed to endorse Senator Bernie Sanders during the critical primary campaign, chants of "we trusted you" could be heard reverberating through the cavernous hall in Philadelphia.
Warren rose to fame challenging the corrupt practices on Wall Street. She was now aligned with a Presidential candidate who was using Wall Street's ill-gotten gains from the customers they had fleeced to finance her path to the Oval Office. There is no doubt that this has caused significant cognitive dissonance among Warren's constituents in Massachusetts' – the landing site of the Pilgrims and one of the original 13 colonies.