by Steve St. Angelo
SRSRocco Report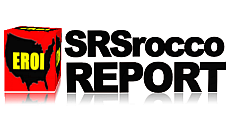 The world economic and financial system is in serious trouble. With the coming collapse of U.S. and global oil production, this will destroy the value of most paper assets and real estate. Thus, the 99% of investors trying to move into physical gold and silver to protect wealth, will find out how very little metal will be available. This could cause the gold-silver price ratio to drop closer to 10/1… or even lower.
I discussed this with Kenneth Ameduri at Crush The Street. This was their summary of the interview:
China's rise, energy & oil shale collapse, world debt levels growing exponential & More: This has got to be our best interview of the year! Steve St. Angelo is an energy, metals and mining expert with statistics and information you simply cannot get from anyone else. The stats WILL shock even a veteran in the alternative economic space and this is a must watch for everyone especially with the IMF SDR basket to add the Chinese Yuan less than one month from this release.