by Pam Martens and Russ Martens
Wall Street on Parade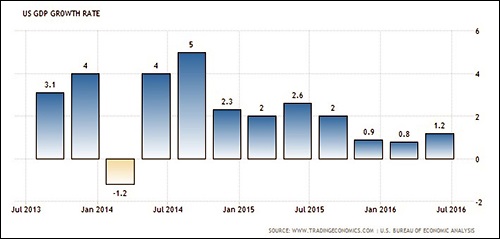 According to the National Bureau of Economic Research, the Great Recession (that was brought on by the implosion of Wall Street) ended in June 2009. What we've been in since that time is supposed to be the "recovery" part of the cycle. But for tens of millions of Americans, it has been hard to tell the recovery from the crisis in terms wealth accumulation, wage growth, or ability to earn a decent rate of interest on savings.
On Friday the Commerce Department released second quarter Gross Domestic Product data, showing that the U.S. economy grew at a 1.2 percent annual rate. That tepid number came on the heels of an anemic 0.8 percent rate of GDP growth for the first quarter.
It has now been more than a decade since the U.S. economy grew at an annualized rate of 3 percent or better – the longest subpar growth stretch since the end of World War II.
Continue Reading at WallStreetOnParade.com…