by Pam Martens and Russ Martens
Wall Street on Parade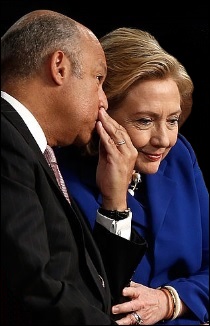 Mavi Ramierez is a Mom, a social media entrepreneur and a dedicated citizen journalist who took a day off from work to cover the first hearing on August 23 in the Federal lawsuit that has been filed by Senator Bernie Sanders' supporters against the Democratic National Committee and its former Chair, Debbie Wasserman Schultz. The lawsuit, which currently has more than 100 plaintiffs and more than a thousand in the wings with retainer agreements, is charging the DNC with fraud, negligent misrepresentation, deceptive conduct, unjust enrichment, breach of fiduciary duty, and negligence.
Leaked DNC documents and emails by Guccifer 2.0 and Wikileaks show Wasserman Schultz disparaging the Sanders' campaign while key DNC officials actually plotted to sabotage the Sanders' campaign by putting the word out that he is an atheist (which Sanders says he is not) and characterizing his campaign as "a mess." From a virtual unknown on the national stage, Sanders' campaign won 23 states in the primaries, raised over $228 million, predominantly from average Americans, and held rallies that ranged from 5,000 to more than 20,000 supporters while Clinton attracted hundreds. Sanders' supporters are demanding this court case to determine if the intentional sabotage by the DNC cost Sanders' his primary battle.