by Pam Martens and Russ Martens
Wall Street on Parade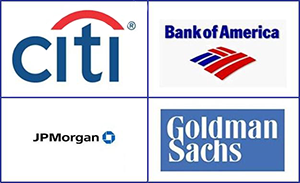 There's something big and scary going on behind the scenes but, as usual, the public isn't reading about it on the front pages of the newspapers.
Yesterday, the broad stock market, as measured by the Standard and Poor's 500 Index, declined a modest 0.29 percent while big Wall Street banks like Citigroup and JPMorgan Chase fell by triple that amount. Bank of America, which bought the big retail brokerage firm, Merrill Lynch, in the midst of the 2008 crash, fell by 8.6 times the rate of the decline in the S&P to give up 2.50 percent.
Equally noteworthy, two major insurers, MetLife and Prudential Financial, saw percentage market losses far in excess of the S&P.
Continue Reading at WallStreetOnParade.com…