by David Smith
Silver Seek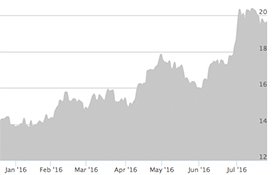 Over time, charts for a bull market tend to print higher highs and higher lows on the way to the primary top. Two steps forward, one step back, creating a visual stair-step effect.
[…] This chart "picture" has been in evidence for gold, silver, and the miners since January.
So far, waiting hasn't been a good strategy. Yes, there were a couple of times in April, and a month later in late May where you might have been able to buy and save some money. But things can get in the way of that plan. And for a number of people I've talked to, things apparently did.
The first obstacle is Timing: Away from your computer, on a trip, sick, or depressed? Whoops, you missed the "correction."