by Patrick J. Buchanan
AntiWar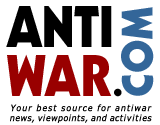 Does Hillary Clinton possess the integrity and honesty to be president of the United States? Or are those quaint and irrelevant considerations in electing a head of state in 21st-century America?
These are the questions put on the table by the report from FBI Director James Comey on what his agents unearthed in their criminal investigation of the Clinton email scandal.
Clinton dodged an FBI recommendation that she be indicted for gross negligence in handling U.S. security secrets, a recommendation that would have aborted her campaign. But Director Comey dynamited the defense she has been offering the country.