by Pam Martens and Russ Martens
Wall Street on Parade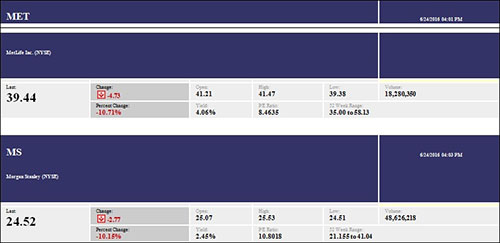 Wall Street On Parade has reported on multiple occasions that the Federal Reserve has no idea what it's doing with its stress testing of the largest banks on Wall Street. Last Friday's market action, following the Brexit vote in the U.K. to leave the European Union, proved just how feeble the Fed is when it comes to assessing systemic risk and capital vaporization at the deeply interconnected Wall Street mega banks.
While the Dow Jones Industrial Average dropped 3.39 percent at the close on Friday, Morgan Stanley lost a stunning 10.15 percent of its market capital in a 6-1/2 hour trading session. At that speed, Morgan Stanley's equity market capital could be wiped out in 10 trading sessions were this Brexit panic to continue.