by Pam Martens and Russ Martens
Wall Street on Parade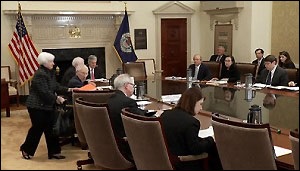 Today, at 4:30 p.m., the Federal Reserve is scheduled to release the second leg of its annual stress tests of 33 banks holding $50 billion or more in total consolidated assets. The first leg of the tests was released last Thursday with all 33 banks getting a passing grade in terms of meeting the minimum capital cushion required. Today's final round, called the Comprehensive Capital Analysis and Review (CCAR), will determine whether the banks are allowed to continue or increase dividend payments, conduct share buybacks or issue secondary stock offerings. This is the sixth annual round of stress tests conducted by the Fed since the financial crash in 2008.
In addition to the regular stress tests, eight large banks with significant trading and/or clearing operations are required to show losses if a major counterparty defaulted. Those banks are: Bank of America, Citigroup, Bank of New York Mellon, Goldman Sachs, JPMorgan Chase, Morgan Stanley, State Street Corp. and Wells Fargo.
Continue Reading at WallStreetOnParade.com…