by Pam Martens and Russ Martens
Wall Street on Parade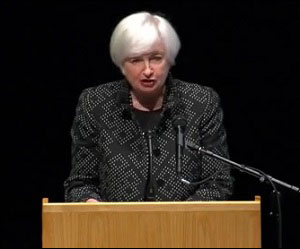 Typically, the bond market would be closing at 2:00 p.m. today, leaving the stock market rudderless and thinly traded. Typically, tens of thousands of Wall Street traders would have nothing more taxing than visions of barbecues and beaches and beer dancing about in their heads and would be sprinting out of the office to the Hamptons or Fire Island or Montauk as soon as the bond market closes at 2 p.m. But today is not typical thanks to Scrooge Yellen who will be speaking around 1:15 p.m today. This fact is furrowing brows on Wall Street and forcing traders to hang around to see what market-moving nuggets might be dropped by the petite central banker in chief.
In reality, it's Harvard that's messing up the early holiday exodus on Wall Street. Harvard is giving Yellen the Radcliffe Medal for her "transformative impact on society." (That likely means, "thank you Chair Yellen for using a melon scoop instead of an ice cream scoop to dish out rate hikes.") Gregory Mankiw, an Economics Professor at Harvard, will interview Yellen on stage as part of the award presentation.