by Pam Martens and Russ Martens
Wall Street on Parade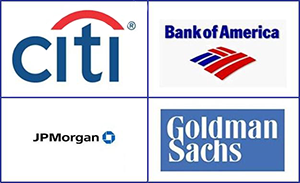 If anyone needs one more reason to break up the mega banks on Wall Street, simply look at what happened following the Federal Reserve's quarter of a percentage point rate hike on December 16 of last year. On that date, the Fed moved off its seven year zero interest rate policy (ZIRP), which had been a bonanza for the banks and a starvation plan for seniors living on fixed income investments like Treasury notes and CDs, and raised its benchmark rate by a quarter of a percentage point to between 0.25 percent and 0.50 percent from its former 0.0 to 0.25 percent.
The following then happened in short order in 2016:
By Friday, January 15, Citigroup closed down on the day a gut-churning 6.41 percent, bringing its share price losses to a whopping 30 percent from its July 2015 high.