by Pam Martens and Russ Martens
Wall Street on Parade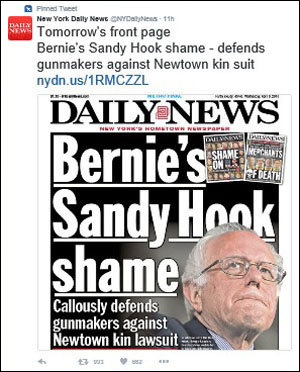 According to ABC exit polls, Senator Bernie Sanders big win of 56.5 percent to Hillary Clinton's 43.1 percent in the Democratic primary yesterday in Wisconsin was fueled by voters belief in his honesty, his ability to inspire and confidence that he can improve the economy. But the very day that Sanders should be enjoying that big win, the New York Daily News has seen fit to devote its full front cover of today's newspaper to shaming Sanders.
What did Sanders do to infuriate the New York Daily News? Absolutely nothing. The newspaper has twisted an interview its editorial board conducted with Sanders on April 1 into a pretzel to come up with a headline screaming that Sanders "callously defends gunmakers" against the relatives of the victims of the Sandy Hook school shooting, who are attempting to sue the gun manufacturer for selling the assault weapon that killed the children and school staff.