by Pam Martens and Russ Martens
Wall Street on Parade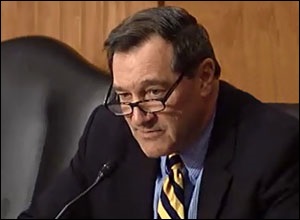 A young black girl got a civics lesson in dystopian society sitting in the front row of the Senate Banking hearing this past Tuesday. Her expression was that of someone watching a Halloween horror film. The young girl was the daughter of Lisa Fairfax, a George Washington University law professor who brought her family members along to share her confirmation hearing to potentially become a Commissioner at the Securities and Exchange Commission. Hopefully, what the young girl observed will be enough to head her off in a career direction of white collar criminal law.
Senator Joe Donnelly delivered a heartfelt review of what is going on in his home state of Indiana, asking the two SEC nominees, Hester Peirce and Fairfax, what role the SEC should play in the matter. Donnelly stated:
"Ms. Peirce, I want to tell you a little bit about what happened in Indiana. I know you're from Ohio. We had 2100 workers fired for a company that said we are at the high end of expectations for earnings; that is in the middle of a $16 billion stock buyback; and they were fired so the jobs could be sent to Mexico for $3 an hour. Among the folks fired were over 60 veterans who had put their lives on the line for our country.