by Pam Martens and Russ Martens
Wall Street on Parade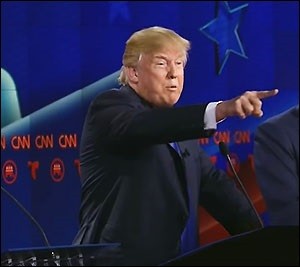 As with the current occupant of the White House, the narrative of fierce independence from Wall Street during the campaign season typically fails under deeper scrutiny. In 2008 we pulled back the curtain on Obama's claim that he wasn't taking money from Wall Street lobbyists and found quite a different set of facts. Today, the claim that Donald Trump is not connected to Wall Street and is actually frightening the mega banks is also totally dislodged from the facts on the ground.
Five days ago, the Washington Post ran an article that was headlined "Why the rise of Donald Trump has even Wall Street worried." It quoted an anonymous source who stated that "I can't find connective tissue between the financial sector and Trump."
Similarly, eight days ago the Wall Street Journal reported that Trump's creditors "mostly are small firms, from New Jersey-based Amboy Bank to specialized real-estate firm Ladder Capital Finance LLC." The article noted that Deutsche Bank, a German bank, "is the only bank with a big Wall Street presence that continues to lend to him."