by Pam Martens and Russ Martens
Wall Street on Parade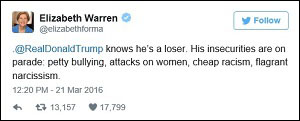 Presidential candidate Donald Trump and the mega Wall Street bank JPMorgan Chase share a common trait: they can conduct themselves in a manner that insults the values of a civilized society and instead of losing ground, their star rises – or so it appears.
Trump's public vulgarity and anti-Presidential demeanor are perpetually on display at his Twitter page and in the Republican debates. In just the past month, Trump has called Fox News anchor Megyn Kelly "crazy"; boasted of the size of his "manhood" during a Republican debate; and promised to ramp up the use of torture – illegal under both domestic and international law.
The typically staid Senator Elizabeth Warren even lost her cool with Trump on March 21, Tweeting that "his insecurities are on parade: petty bullying, attacks on women, cheap racism, flagrant narcissism."