by Pam Martens and Russ Martens
Wall Street on Parade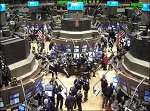 According to the most recent 13F filings made with the Securities and Exchange Commission, the biggest banks on Wall Street are each sitting on hundreds of billions of dollars of stock positions – which we are now learning include highly leveraged stock positions for hedge funds called family offices.
The purpose of the SEC's 13F filing is to provide transparency to the public as to the beneficial owners of publicly-traded stocks. Institutions holding more than $100 million in assets are supposed to file the 13F. But as the public learned to its horror over the past month, a reckless family office hedge fund called Archegos Capital Management built up stock positions estimated at $100 billion by borrowing about $90 billion of that from a handful of the largest Wall Street banks.
Continue Reading at WallStreetOnParade.com…