by Pam Martens and Russ Martens
Wall Street on Parade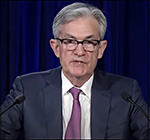 The CBS "investigative" program, 60 Minutes, gave Wall Street a pass again last night.
This time around 60 Minutes' host Scott Pelley interviewed Federal Reserve Chairman Jerome Powell. The Fed, and by extension, Powell, are in charge of supervising the holding companies of the mega banks on Wall Street, including those involved just two weeks ago in loaning out their balance sheets to the tune of tens of billions of dollars to a hedge fund run by a man previously charged with insider trading and stock price manipulations. The man is Sung Kook (Bill) Hwang and the hedge fund is Archegos Capital Management. (Fed-supervised mega banks loaning out their balance sheets to hedge funds for nefarious purposes was previously exposed in 2014 in an in-depth report and hearing by the U.S. Senate's Permanent Subcommittee on Investigations. The practice has clearly metastasized since that time.)
The 60 Minutes interview comes just two weeks after Archegos blew itself up, along with generating billions of dollars in losses at the mega banks that allowed it to take on obscene levels of leverage in a replay of the financial crisis of 2008 – something that the Fed has continuously assured Americans could not happen again under its oversight.
Continue Reading at WallStreetOnParade.com…