by Pam Martens and Russ Martens
Wall Street on Parade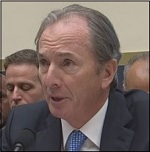 On March 9 Morgan Stanley announced that it had been "recognized for industry-leading risk management technology." Three weeks later it has landed in the middle of one of the biggest hedge fund blowups since the financial crisis of 2008, raising serious questions about how it manages risk.
Adding to the embarrassment for both Morgan Stanley and its bank holding company supervisor, the Federal Reserve, the Chairman and CEO of Morgan Stanley, James Gorman, sits on the Board of Directors of the New York Fed, to whom the Fed has outsourced much of its oversight of the Wall Street banks.
A look at Morgan Stanley's $647 billion in stock portfolio holdings that it filed with the Securities and Exchange Commission for the quarter ending December 31, 2020 explains why Morgan Stanley has been so strangely silent as the Archegos scandal has played out.
Continue Reading at WallStreetOnParade.com…