by Pam Martens and Russ Martens
Wall Street on Parade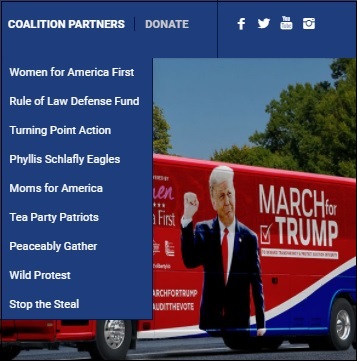 It is perhaps the height of irony that the groups behind the event that led to the worst battle in the U.S. Capitol building since the British attempted to burn the place down in 1814 (during the War of 1812) call themselves Peaceably Gather, Moms for America, and the Rule of Law Defense Fund. Those names stand right alongside a group that acknowledges what it expects to go down: WildProtest.com.
Many of the web pages for the nine groups listed as Coalition Partners for the January 5th and 6th event have quietly disappeared from the Internet. Fortunately, the Internet Archives' Wayback Machine has allowed us to reconstruct what these groups were doing and saying in the leadup to an event that has, thus far, resulted in dozens of serious injuries and the deaths of five people, including a Capitol Police officer who was beaten by the mob.
Continue Reading at WallStreetOnParade.com…