by Charles Hugh Smith
Of Two Minds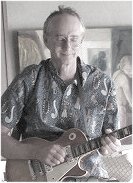 Extremes get more extreme until risk breaks out; then the reversal will be as extreme as the bubble expansion.
What would happen if the Federal Reserve ceased to exist? We all know the answer: global markets would instantly collapse and the global financial system, now entirely dependent on Fed stimulus, intervention, manipulation, free money for financiers and endless printing of trillions of dollars out of thin air, would crash, leaving nothing but a steaming, fetid pile of corruption infested by the cockroaches scurrying around gobbling up the few crumbs left.
What would happen if the Federal Reserve ceased to exist? The Treasury would sell its bonds on the open market, where buyers and sellers would set the yield on the bonds. Private banks would take deposits and lend money at rates set by supply and demand.
We all know what would happen: yields and interest rates would explode higher in response to risk having to be priced in and every flimsy, worm-eaten enterprise that depended on zero-interest rates would collapse in a heap and every putrid, staggering zombie corporation would crumble to dust, and its phantom assets, illusions generated solely by the artificial spew of the Fed, would fall to their real value, i.e. near zero.
Continue Reading at OfTwoMinds.com…