by Pam Martens and Russ Martens
Wall Street on Parade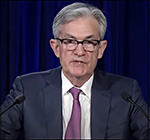 There was a jaw-dropping exchange between Politico reporter Victoria Guida and Fed Chair Jerome Powell at his press conference yesterday following the two-day meeting of the Fed's Federal Open Market Committee (FOMC). Powell first acknowledged in his opening statement that "the current economic downturn is the most severe of our lifetimes." But he then proceeds to tell Guida that the Fed has given no thought at all to what kind of emergency lending it might engage in under the incoming Biden administration. Treasury Secretary Steve Mnuchin has kneecapped the Fed's existing emergency loan facilities by demanding that the Fed return the Treasury's unused money that is backstopping these facilities as loss-absorbing capital.
The Fed has for years attempted to reassure markets that there will be no surprises from the Fed; that it will be providing lots of forward guidance to Wall Street to assuage any nervous jitters about its actions. And yet this is what Powell tells Guida about the Fed's future plans for emergency lending facilities:
Continue Reading at WallStreetOnParade.com…