from Zero Hedge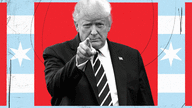 President Trump's team will hold a press briefing in Philadelphia at 1015 to outline its plans to file a lawsuit and stop the count, while the president rages on twitter that no votes coming after election day being counted.
ANY VOTE THAT CAME IN AFTER ELECTION DAY WILL NOT BE COUNTED!
— Donald J. Trump (@realDonaldTrump) November 5, 2020
Trump needs Pennsylvania if he wants to secure another term in the White House, and at last check he was ahead in the vote count. The briefings come as state officials in Georgia warn that the count will be finished by noon.
A live feed for the Philly briefing appears to have been shared on Vimeo. Readers can watch live below:
Continue Reading at ZeroHedge.com…