by Charles Hugh Smith
Of Two Minds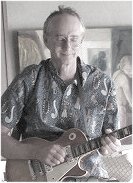 So enjoy the GBOAT (greatest bubble of all time) but watch the clock.
Sports fans debate who qualifies as GOAT–the greatest of all time: in hoops, Kobe, Jordan, Kareem, Magic; in boxing, Ali, and so forth.
What we have today is GBOAT–the greatest bubble of all time That it's GOAT is beyond doubt, as the charts below reveal.
Bubbles have a few unique characteristics which cannot be captured by financial metrics. The most important such characteristic is that mainstream financial managers don't see it as a bubble. For those who do admit valuations may be a bit stretched (heh), these professionals shrug and say that since the music's still playing, they have to keep dancing, i.e. yes there may be a bubble but it won't pop anytime soon.
Continue Reading at OfTwoMinds.com…