In this interview, CEO Greg Crowe provides an update on Silver One Resources' (TSXV:SVE OTC:SLVRF FSE:BRK1) pursuit of high-grade silver discoveries and development at the company's Candelaria and Cherokee projects in Nevada as well as the Phoenix Silver project in Arizona. The Candelaria project already has a historic silver resource of 123 million silver ounces as well much prospectivity for further discovery as the recent drill results demonstrate. There is also nearer-term potential to bring the historic heaps back into production.
Click Here to Listen to the Audio
Sign up (on the right side) for the free weekly newsletter.
The Cherokee project is a 12 km long x 4 km wide structurally controlled Ag-Cu-Au epithermal system. The project has already yielded select surface samples of high-grade silver, gold and copper values up to 1,895 g/t Ag, 4.8% Cu and 2.0 g/t Au.
The Phoenix Silver project has already returned an astounding grab sample of 459,000 gm/tonne (14,688 oz/ton) assay result from a 18.7 lb (8.5 kg) native silver vein fragment. Also, discovered was a large 417 lb silver vein fragment that was not assayed due to the desire to preserve the specimen nature of this sample. These silver vein fragments are interpreted to have been transported short distances downslope from partially exposed vein structures, have been found in numerous areas throughout the property. Silver One is exploring this project with the hopes of fully uncovering the high-grade silver veins and proving out an economic deposit.
00:00 Introduction
1:06 Candelaria project update
5:26 Capex to bring heaps back into production?
8:59 15,000m drill program is RC
10:47 Phoenix Silver ultra-high-grade project
14:27 Cherokee silver project in Nevada
15:57 Silver One sold its Mexican assets
17:37 Eric Sprott invested another $5M
Silver One's Oct 2020 presentation
TRANSCRIPT:
Bill Powers: Thank you for tuning into Mining Stock Education. I'm your host, Bill Powers. In today's show, we are going to be getting an update from one of our sponsors, Silver One Resources. You can find more information about Silver One at silverone.com. The ticker is SVE in Toronto and SLVRF on the OTC. Joining me today is the President and CEO of Silver One Resources Greg Crowe. This is a project that I've been out to, the first project we're going to talk about, which is the Candelaria project in Nevada. Over 123 million ounces of silver are already there on that project. Some of it is NI 43-101 compliant and some of it is a historic resource. So, Greg, welcome back onto the show and you're really putting the drills to work out there at Candelaria. Could you give us an update on this project, please?
Greg Crowe: Sure, Bill. Thanks a lot. Yeah, we are advancing the Candelaria project. As you mentioned, it's our flagship project right now. Probably the clearest path to an earlier production scenario that we hope to achieve. We've just announced a 15,000-meter drill program at Candelaria. That will be in addition to about a 3,000, 4,000-meter program that we did earlier this year as well. So what we want to do at Candelaria is we've got kind of three targets we want to go after. The first target is there's some down-dip high-grade intercepts that not only did Silver Standard back in early 2000s, intersect some interesting values down-dip from the two big open pits, but we intersected some very interesting values, essentially, when we did our diamond drilling program earlier this year.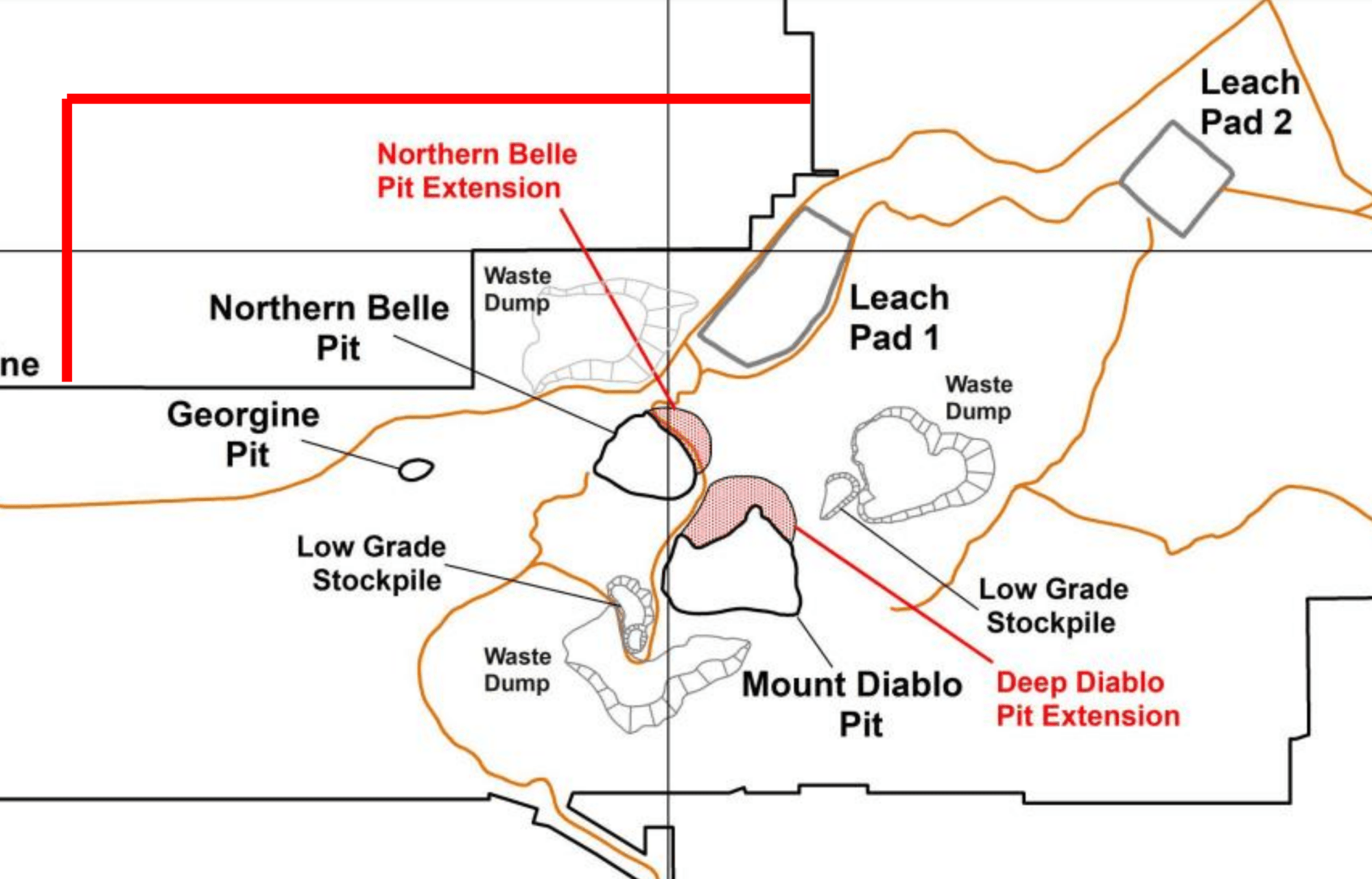 For instance, we had about 1,100 grams per ton silver with about 1.33 grams per ton gold to over about eight meters, within a much wider 30-meter interval with over 350 grams per ton silver and about a half gram gold. So there's a high-grade system there. And we're going to be doing drilling testing to see how much high-grade mineralization there is because that can really augment downstream economics affiliated with any production scenario.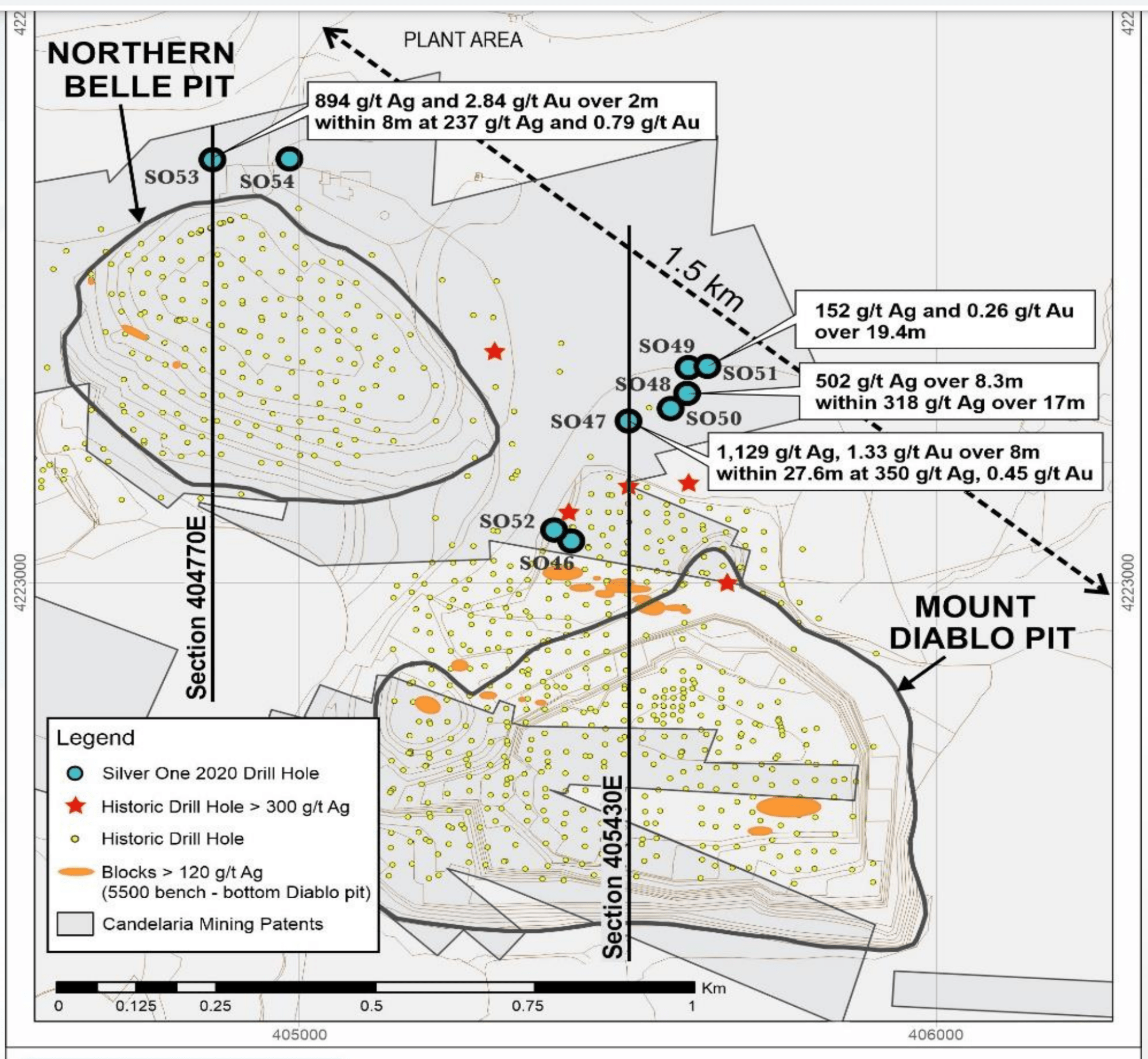 The second target that we're doing is easily accessible extensions to the lower-grade open pit mineralization, because we want to commission an economic study on bringing the heaps back into production. And what we want to look at is a two-stage economic production. What does it take to bring the heaps back into production on their own? What would the economics look like? But also if we think about mixing some of the easily accessible extensions to the open pit, that will improve the overall grade, the overall recovery, and also enhance the economics. On the heaps themselves, we already envisage a production scenario that could amount to about eight years worth of producing two to three-million ounces of silver a year. We started adding in extensions from the pit that could, as I said, enhance grade, enhance recovery, and extend mine life. And then you've got the down the road enhancement of the entire project with the high-grade down-dip mineralization.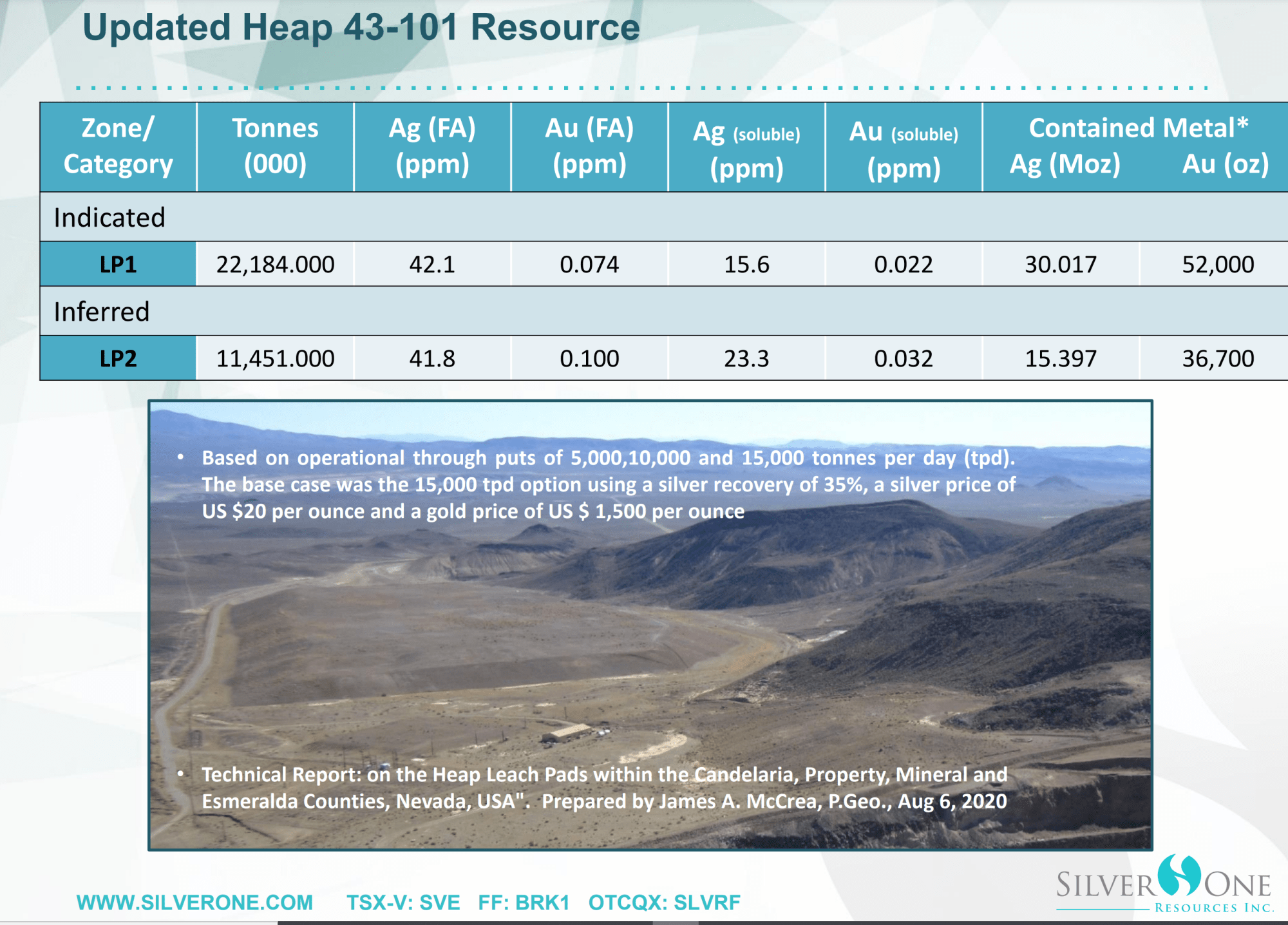 Now, there is a third component to our drill program that we're very interested in. It's never been talked about, Candelaria in the past, but there seems to be on the old dumps from some of the historic workings material that is reminiscent of what's called IOCG iron oxide copper-gold mineralization. The nearest mine to us, it would be Nevada Copper's Pumpkin Hollow mine up in Yerington, which is about 100, 150 kilometers to the north of us. But they can be quite large and quite rich. What's interesting is those samples that we collected, we essentially, we're getting values up to 2.7% copper with about 25, 26 grams per ton silver and about 0.6, 0.7 grams per ton gold. So is there a deeper buried IOCG target?
So three targets at Candelaria that we're moving fast on doing a 15,000-meter drill program that should take us about two to three months to complete. We're looking at extensions to the mineralization, to the open pit mineralization, down dip high-grade, and this deeper IOCG target. And then we aim to start economic studies on bringing the heaps into production, and we should be able to look at getting that done in the first half of next year.
Bill: Greg, could you talk to us about some back of the envelope calculations for potential CapEx? And what I would like my listeners to know is as I visited that project last year, and I did do a site tour video, you have a road where you and I literally drove on a paved road right up to the site. I saw the big electrical wires running across the site. There was a huge well right there, water's already there. You've done some metallurgical work on those heaps. Back of the napkin, obviously, it's a forward-looking statement, but what type of CapEx are we looking at to potentially bring this back into production?
Greg: Yeah, Bill. No, you're right, not too many projects have the infrastructure that Candelaria has because it was a past-producing mine for probably 150 years almost. And Kinross was the last big company to be in there producing in the late '90s, shut down with the collapse of silver prices. But all the infrastructure's there, paved road. We've got a power line, which is active. We pay our monthly power bills. We've got water wells equivalent to two water wells, each able to produce five to 700 gallons per minute. More than enough water. And water is extremely important in Nevada. If we don't have water, we don't have a production situation. And then on top of that, we have these resources that we inherited. We don't have to spend tens, if not hundreds of millions of dollars in drilling to find these resources, we inherited them. So, that's fantastic.
So moving forward, we had a couple of scenarios that we wanted to look at with our metallurgical testing. The first idea was we were thinking, okay, let's really mill this material that's sitting on the heaps. And it's about three-quarters of an inch to an inch in size. Let's really mill it really fine, something called 200 mesh, which is like powder. But you wouldn't be able to leech that anymore because it would create a slurry. So you'd have to put it in big vats and agitate those vats and leach it that way. That's really good and we can get some pretty decent recoveries, but the problem is that the capital cost for that type of situation, it would be quite high.
So then when we looked at, and we sent our samples to a company called Kappes, Cassiday in Reno, and they have the ability of testing for what's called HPGR, high pressure grinder roller technology. This is a relatively new technology that's being employed by the big boys, Newmont, essentially, Freeport-McMoRan, and Kore, which is also operating in the silver oxide production situation in northern Nevada. They're using this as well, and they're getting enhanced recoveries, and they're also getting a little bit of cost savings on some of the power. So what's important is, we want to look at that.
So we did a study and what we found out is we are getting some lesser recoveries, but not bad recoveries using that technology. And we would only have to grind down to about two millimeters and then we'd be able to process. The capital cost estimated for that, and this is back of the envelope, I have to emphasize until we get our economic studies done next year, these were not to be shall we say etched in stone, but a crude estimate will be between $30 and $40 million to bring the heaps and maybe the heaps plus some near-surface material from the two big pits into a production scenario.
Bill: So this 15,000-meter program is going to be reverse circulation. Why did you go with reverse circulation for this program?
Greg: Well, first of all, cost savings. Reverse circulation is less than half of what a diamond drill would cost. It's much faster. So that will make us as opposed to doing a six-month program, we can probably do a two to three-month program. On top of that, the conditions for drilling diamond drill in the oxide ore are a little more difficult, so that really adds onto the cost and difficulty of drilling. Reverse circulation was what was used through all of the previous programs that defined all those resources through silver standard, Kinross, et cetera. So we're not reinventing the wheel here. We're doing a tried and true method to get the best information that we can as quickly as we can because we want to develop this as quickly as we can.
Bill: And how soon could we expect those results? Are the assay labs backed up in Nevada right now?
Greg: Yeah, assay labs are running and sometimes we're a little slow. It just depends, with the run-up in silver and gold prices there the last couple of months, we've seen a lot of new drills moving into various projects that hadn't been drilled in the past. As such, the labs are getting busy again. So, usually normal turnaround is anywhere between three and six weeks and we'll see what we can get. So as we move along and we get some results back, we'll probably put out interim results, and then, of course, we won't have the final results to be able to do our metallurgical studies and the economic study until into the new year.
Bill: A few interviews ago earlier this year, you shared with us about your new project, the Phoenix Silver Project in Arizona, and this has what I would term beyond bonanza-type grades, where you found these native vein fragments of 70-plus percent silver, according to specific gravity method measurements. Can you give us an update here? I know you're pursuing where this vein came from. What's the update here?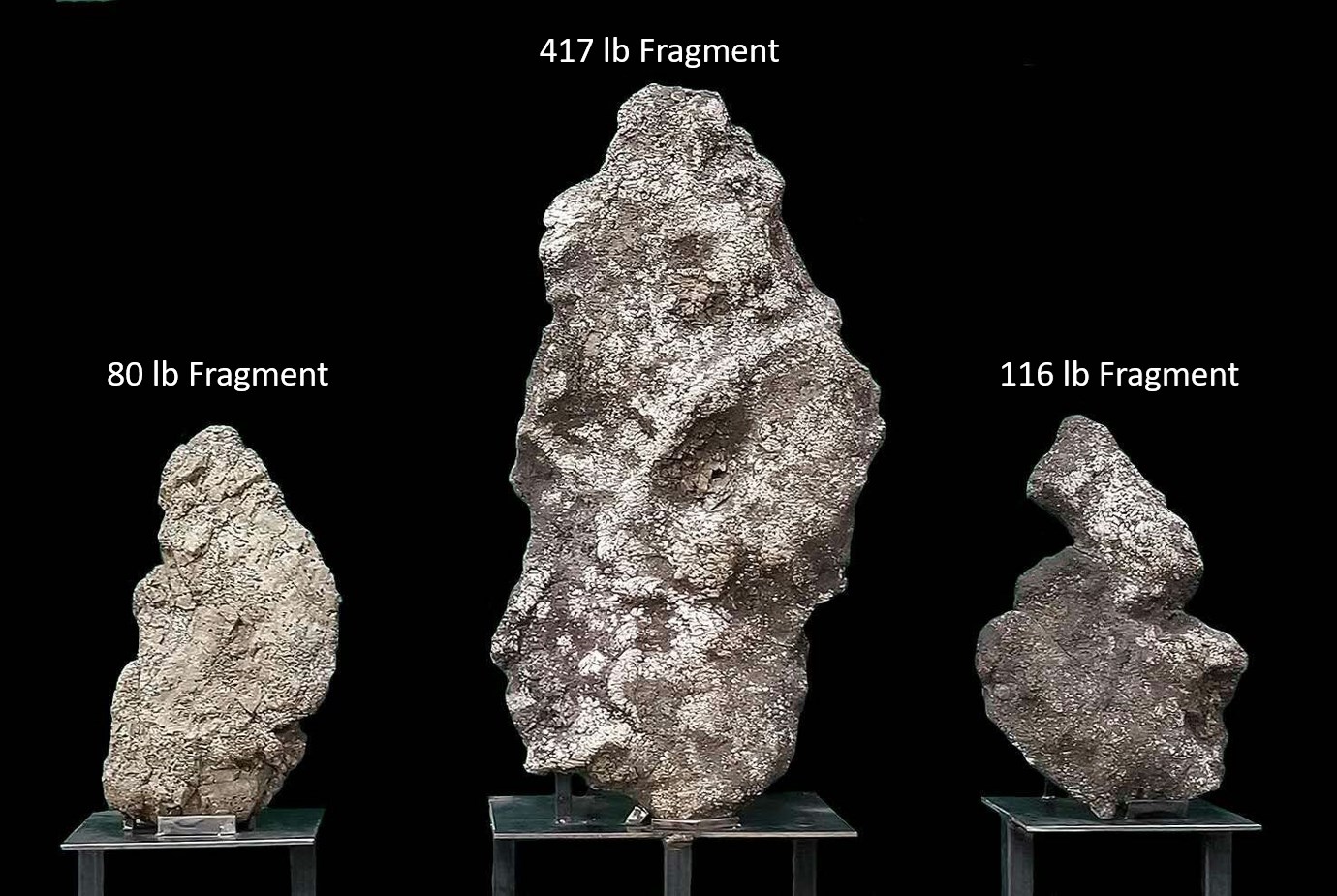 Greg: Just so that people have kind of a visual understanding, this is a project that was brought to us by some prospectors. And the problem with the project, it's just outside of a major copper-producing area, which is interesting. And there's an old silver camp just on the northern margin of it. Some prospectors came to us and they said, "Look, we've got this project, we're finding these little silver nuggets and there's no real rock on the property. It's all covered by overburdened. We don't know how to proceed." But we did take metal detectors up an old creek bed and we uncovered these huge vein fragments that you were talking about. And there's a photo on our website and those main fragments are pretty impressive. One of them came in at 417 pounds, and estimated, as you said to contain about 70% silver.
We didn't assay that one because it is a collector's specimen, but we did the specific gravity measurements and that's where we got this estimate. But we did assay some of the smaller samples and we were getting values if you can believe this, up to 14,600 ounces per ton, which equates to 459,000 grams per ton, or just under 50% silver. Our job is to try and find the source of those vein fragments. We have done geophysics. We've done geophysics. We've done soil geochemistry. We are currently doing another round of geophysics to be able to define drill targets. We want to get in there in the new year and start. We've already talked to a couple of companies. We've got a mobile drill lined up that we're going to go in there. It can easily be mounted on a skid and dragged in with the dozer. So we don't have to build roads or anything like that. And we'll just pound away on the drilling, trying to find the source.
To put it into perspective, the resource that you talked about at Candelaria is contained within about 70 million tons of material. That's a lot of rock, right? If we can find as little as 10,000 tons of material at half the grades that I spoke about, we'd have more silver than we have currently historically at Candelaria. So this is why it's such an alluring target shall we say. It's drawing us to it because there are very few areas around the world where you find grades like this. One other area that would be comparable to this, a long way away, but it's called the Old Cobalt Camp up in northern Ontario. They had those bonanza-grade silvers with cobalt. We don't have the cobalt, but we've got bonanza-grade silvers, and we're in the exact same age and type of rocks that hosts the Cobalt Camp situation. So, we're just going to move up as quickly as we can, hope to get the drills in there in the new year. And we'll keep you posted.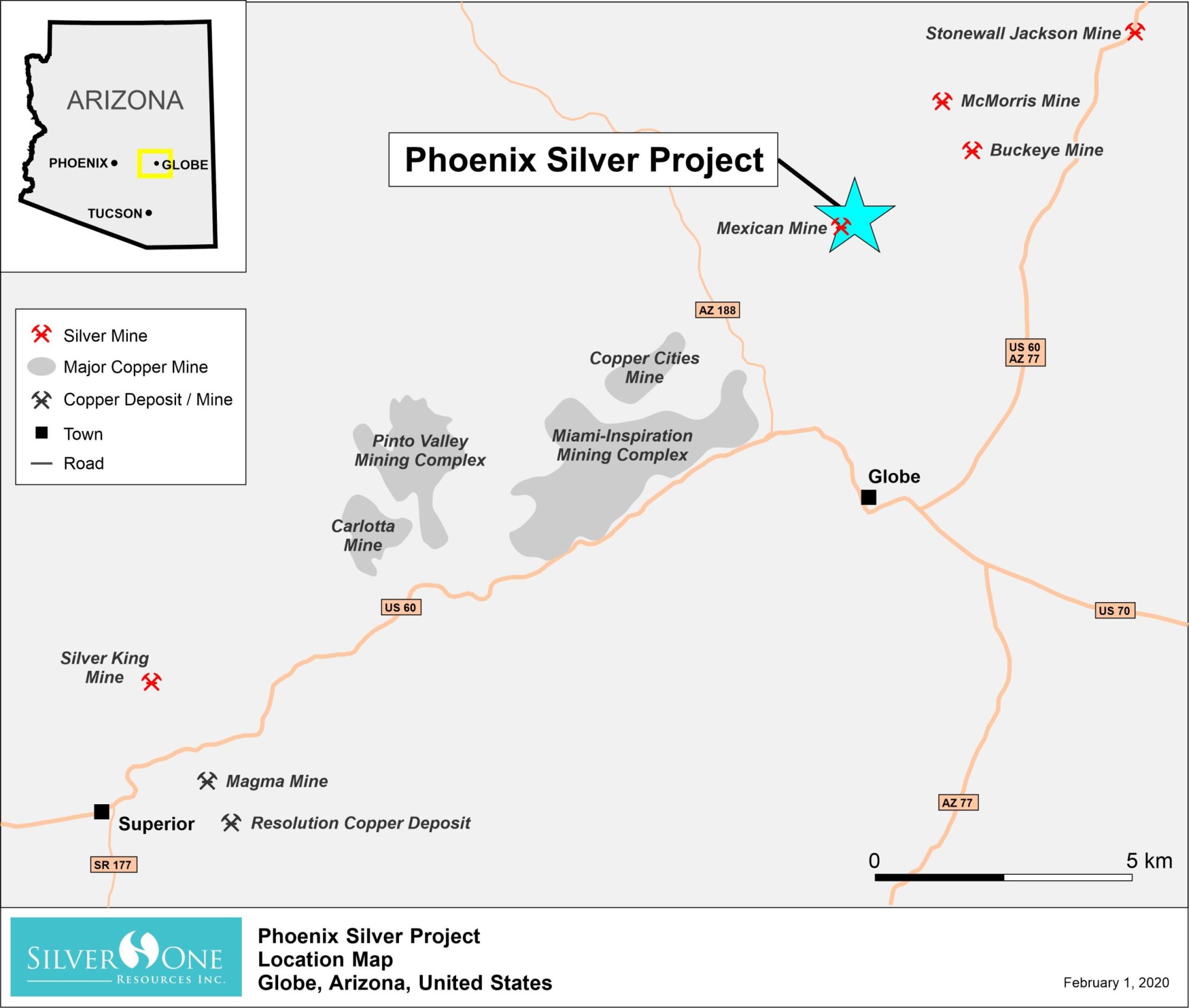 Bill: And you have another early-stage project over in Nevada, Cherokee. What is the update here?
Greg: Yeah, sure. No, so Cherokee was one that we found. It came to our attention because there were some old references in the mining journal. They talked about mining in the 1800s in the thousands of grams of silver. So we've been plugging away at that one there. We went in and we looked and we found that the Cherokee mine itself, we walked the vein systems and traced them for over 12 kilometers and nine miles along the strike and found a second vein system. We did some surface sampling getting some nice values up to the thousand grams per ton of silver and almost four and a half percent copper. In the south, we're getting values up to 2000 grams per ton of silver with two grams of gold.
The only drilling that was ever recorded in the entire area of this property is in the southeast corner of the property. And they were looking for a porphyry molybdenum deposit buried at depth, and that was in the 1970s, 1980s. So this has been totally ignored. These vain systems are very strong, very high grades on surface, never being drilled. We've got a crew out there right now doing some more surface sampling. Can we upgrade some of those targets to drilling? Well, stay tuned and we'll let you know. But it's a very high-grade prospective project that we want to pursue.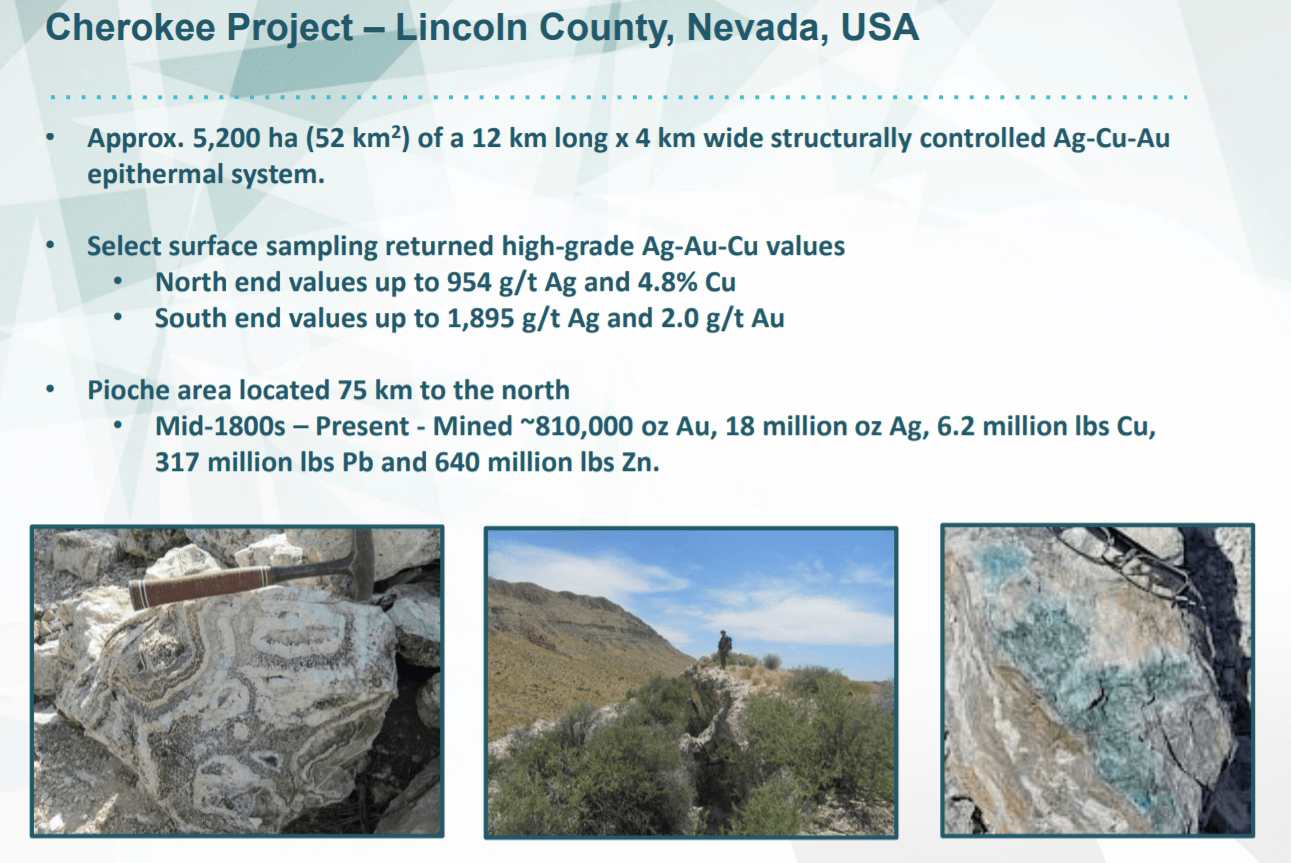 Bill: So you're pursuing pretty much exclusively in the United States now because you did have Mexican assets, but you have agreed to sell those.
Greg: When we first formed the company in mid-2016, we did it around three Mexican silver assets that we acquired from First Mining Finance. And First Mining Finance is one of the companies in the stable of companies run by Keith Neumeyer, who is a bit of a guru in the silver field, shall we say. And we did some work on them, but as time went on, we decided we wanted to move to something more advanced because these are earlier stage exploration projects. And we just kind of put those Mexican projects up on the shelf for a while, deciding what to do with them. We were approached by another group that wants to form a brand new silver company focused in Mexico, so we entered into an agreement.
The agreement we originally did with First Mining was we gave them six-million shares of our company. That was it. Okay. So no cash, nothing else. We got the properties a hundred percent with a royalty. So we've done a deal now where we have agreed to sell all three projects in Mexico. They're going to be giving us a million dollars, plus $5 million in shares of the new company, plus a royalty. So we think we've done quite well off that to get a little bit of cash. And it also takes away the need to maintain these properties, which is a bit of a drain on the treasury. Now we can focus in Southwest US.
Bill: Regarding the treasury, about three and a half months ago, you raised 9.5 million dollars Canadian. So what does that top off the treasury to?
Greg: Yeah. This is important to know that, of that 9.5 million, a fellow by the name of Eric Sprott put in five of the 9.5 million. Eric Sprott is, I guess, the Warren Buffett of the mining business here in Canada, and he loves silver, just loves silver. So it was a real vote of confidence because it was the third time that he had actually invested into our company. He's very enthralled by the old resources at Candelaria, but he's getting quite excited about the Phoenix Silver Project as well.
We currently have a treasury of about $15 million. The estimated costs for the drill program in Candelaria is between three and a half and four million, another million spent on the other two projects. So we've got a treasury that we can either extend out, or if we get very lucky and the environment permits, we can move very rapidly to develop. And we've got a couple of years worth of treasury sitting there.