by Steve St. Angelo
SRSRocco Report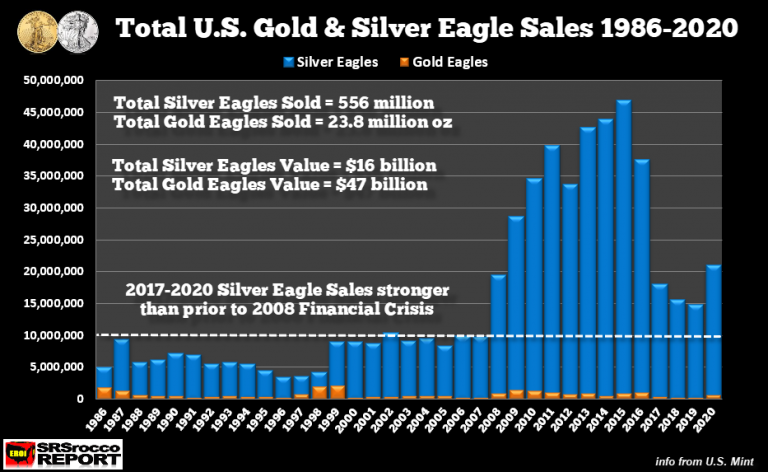 With the enormous investor demand for Silver Eagles, the U.S. Mint sold nearly three million official coins in September. While this wasn't the highest monthly amount this year, it was a record when we compare the Silver Eagle sales to Gold Eagles. And, it seems that U.S. citizens are purchasing the majority of the Silver Eagles as Americans prefer silver bullion coins (and rounds) over bars.
For those who might be new to the precious metals market, the official coins such as Silver Eagles, Maples, Philharmonics, Krugerrands, Kangaroos, Britannias, Pandas, and Libertads are known as "COINS." In contrast, private rounds such as Buffalos, Walking Liberty, etc are labeled as "ROUNDS."
While some investors prefer the Silver Maples because they have a better fineness (99.99% silver) versus the Silver Eagles (99.9% silver), there has been one heck of a lot more Silver Eagles sold and held in the market than Maples. I don't have a total Silver Maple Leaf coin figure because the Royal Canadian Mint stopped providing updates since 2015 on the amount of Gold & Silver Maples sold.