from Zero Hedge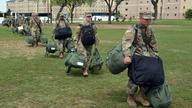 For the majority of Americans wondering when this socially distanced dystopian nightmare of '6 feet apart' and 'wear a mask!' and 'mandatory hand sanitizer' will finally be over, the Pentagon has just given serious cause for concern. When will it all end?
Perhaps leading the way as an example of where we all might be headed as a country, the United States Army has strongly hinted that it's looking to make its coronavirus protective measures permanent.
This according to alarming statements reported by the military site Defense News:
In the wake of the COVID-19 pandemic, the defense industry began adjusting its facilities to avoid major outbreaks that could shut down production lines for days or weeks at a time. And now that those changes are in place, the U.S. Army's top acquisition official thinks they should remain so for good.
Continue Reading at ZeroHedge.com…