by Pam Martens and Russ Martens
Wall Street on Parade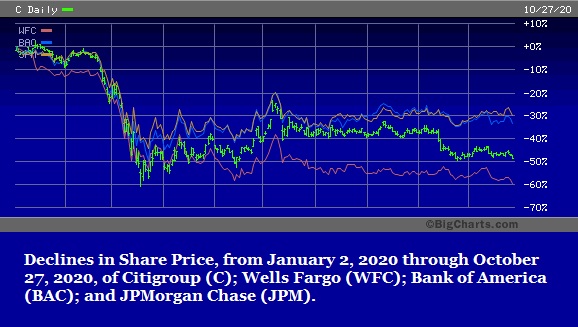 At 9:10 a.m. this morning, Dow futures were showing a loss of 623 points, signaling another nasty open for the stock market following Monday's plunge of 650 points and a 222-point loss yesterday. The sell-off in futures this morning is being blamed on the rising number of COVID-19 cases in Europe and the U.S. and the failure of the U.S. Congress to pass a stimulus bill to cushion the coming economic fallout.
But tomorrow morning will bring a report showing a huge pop in Gross Domestic Product (GDP) for the third quarter, and the Trump campaign can be expected to spin it into a rallying cry at campaign events. At 8:30 a.m. tomorrow, the Bureau of Economic Analysis, a unit of the U.S. Department of Commerce, will report how the U.S. economy grew from July 1 through September 30. According to the highly reliable Atlanta Fed's GDPNow estimate, that figure should come in at the 30 percent range.
Continue Reading at WallStreetOnParade.com…