On October 5th, the shareholders of Auryn Resources (Ticker:AUG) and Eastmain Resources (Ticker:ER) overwhelming (over 99%) approved Auryn's proposed acquiring of Eastmain which will result in the formation of Fury Gold Mines (Ticker: FURY beginning Oct 12th). As part of this transaction Auryn will spin out its Peruvian assets into two SpinCo's: Tier One Metals and Sombrero Resources. Executive Chairman Ivan Bebek returns to the show to discuss the newest developments and share the strategy to produce cascading share price momentum across the three resultant companies: Fury Gold Mines, Tier One Metals and Sombrero Resources.
Ivan explains that if shares of Auryn Resources are owned before the October 8th record date that current shareholders will receive .7 shares of the resultant Fury Gold Mines, 1 share of the Sombrero Resources SpinCo and also 1 share of the Tier One Metals SpinCo. Each of these three companies, Ivan believes, will have the potential individually to become 10 to 20-baggers.
Click Here to Listen to the Audio
Sign up (on the right side) for the free weekly newsletter.
TRANSCRIPT:
Bill Powers Welcome back into Mining Stock Education. I'm your host Bill Powers. Thank you for tuning in. Well, you're going to be getting another update from Ivan Bebek, the Executive Chairman of Auryn Resources, because so much has been happening, a lot of moving parts within Auryn that we've been covering over the past month. So I asked Ivan to come back on because the shareholders of Eastmain and Auryn just overwhelmingly, over 99%, approved the transaction, so Auryn will be acquiring Eastmain, subject to the judges signing off on it. And there will be the two Peruvian spincos that we've been talking about. So Ivan, welcome back onto the show. Congratulations, it's a milestone, but it's not the end result. But you're kind of a discover it and sell the company type of guy. So here we are four plus years later after the founding of Auryn. Did you think you'd make it this far?
Ivan Bebek: You know what, thank you so much. I'd say we're finally there, but by virtue of the vote, and it's exciting to see all that strong support. I think it's an easy decision for both shareholders. On the Auryn, you're getting a tremendous asset in Canada to really start something special in Fury, which I'm sure we've talked a bit about, but we'll give some more direction here today. And then on the Eastmain side, you're going to get to enjoy a new caliber of technical team. Something that we've been very privileged with at Auryn, which we're going to, we think is going to reveal tremendous value, not only in Eau Claire, but also in the other assets in the company with the plan going forward. Yeah, it's a great question. Did I think I'd be here four or five years later? In the past two companies prior to Auryn, they didn't exist or they became producers.
There was a big transformation at the end of the fourth year, fifth year. And personally, if you'd asked me four or five years ago, "Is Auryn going to be trading in five years?" I would've said, "No, it's not." And rightfully so, it's not trading. But instead of an asset sale, which had been really, really excellent for all shareholders and the company gone and to go do it again, we've got something that I think is much better. We're creating three opportunities that we would argue all have equal merit to deliver that big 5 to 10 or 20 times your shareholders money in three different companies coming out of the one share price. So we've created something better, I think, than a takeover aligned really well with the bull market. And I think that's where value gets compounded dramatically for shareholders.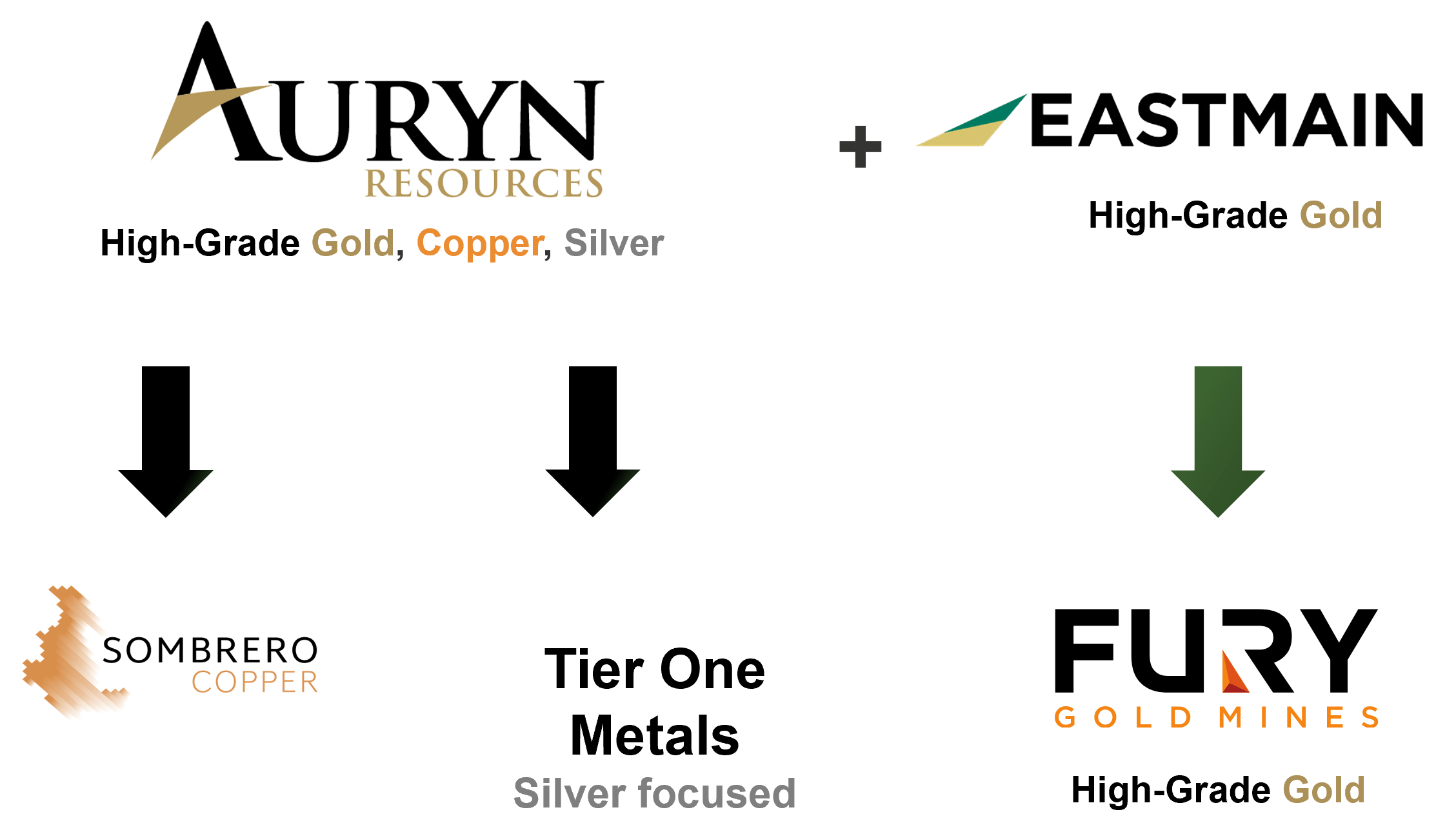 Bill: Ivan, as I alluded to in my initial comments, you're quick to the discovery and then to sell at least in your two predecessor companies. So now that you're creating two more companies in Peru and you're launching a developer essentially, what should investors expect in terms of timeline and share price increase?
Ivan: Sure. I think we all, as investors, have very little patience for time because time is money. But the prize in front of us is worth a lot more over a bit of time versus trying to have it all at once. In Fury, our goal here is to create a Canadian mining company. And to go build that out, it starts with the share price performing and it finishes with the share price performing. Meaning we're going to do stuff that's going to generate that shareholder share price return that's going to allow us to acquire more assets, allow us to raise more capital, to go build this big venture. I think if I look at all three, both Peruvian ones being discovery-focused, the one that's going to be in development and actually become potentially a producing major mining company, being Fury.
I think they all have huge value to deliver in the next 18 months. I think that's going to be the most exciting part. They're all going to be drilling. They're going to be drilling a lot of discovery holes, a lot of development holes, but the discovery holes across all three are going to be substantial. So I'd say that if you're a shareholder today, you've waited this long, you're going into three times the effort and three times the opportunity, three times the reward, and you get 18 months of that drilling excitement to be at the most mature state where the most value can be created alongside commodity price performance. This doesn't mean that in 18 months that's peak value, it just means that the percentage return is going to be substantial. So you're really at the forefront of the best 18 months of Auryn That start basically in a couple of weeks here.
Bill: So with the transaction almost concluded, just with the judges needing to still sign off, what was the hardest part of putting this whole thing together?
Ivan: It was a great strategy. We started this a few years ago. Actually, when Goldcorp made their investment, there was a comment made amongst them and us about managing our business. And we've really taken that to heart. We didn't know we were going to have three opportunities. We thought at first we would have two, just Canada and Peru. But the silver asset and some other things that are coming up in Peru that you'll see being acquired by Tier One Metals are substantial. And so usually the assets would be the difficult part, but we've been on the right path for them. For some time. It's been the people, the people is the number one most difficult thing that we look for in making these things really work right. As you know, in our business plan, it's the people, the execution ability of the people, it's the culture and it's our shareholders. That is the key ingredients to our success. So finding Michael Timmins to be the CEO and in being able to appeal to him and have him come in with this plan, you've got a chance to meet him.
Everyone's had a chance to see a little bit about him. I've gotten way more time with Mike than anybody will see over the next few years. And not only is he exciting, focused, driven, but he's got a high level of discipline in what he's doing. And for the undertakings in the plan going forward, it's going to be paramount to leverage off of that and to watch things happen in a very professional manner. In terms of Peru, we've been hiring some incredible people who you'll hear about going forward. But former really senior people from majors that became available through COVID, which was very opportunistic for us as we go and we take on these major discovery opportunities. So we got people first, we got people early, and this was our biggest fear in pulling this off. And then lastly, market finance and trading of share prices, we've got a really good strategy of how we're doing all of this that I think is going to come together really well for everyone.
Bill: So you're acquiring the Eau Claire project from Eastmain. Obviously, you saw value there, therefore you went for the acquisition. But I'm assuming you saw more value than you've even communicated to the market. Is there anything you can speak to at this point regarding that?
Ivan: Sure, absolutely. They've got a million ounces and change that they've drilled over 25 years and they put together a great PEA, great start to so much more. And I think there's been a few iterations of management teams that have been through their has been through that asset. We've collected a lot of data during our due diligence that hadn't been processed before on the asset that we were able to model it. And we see a really substantial growth of that deposit right out the gate. I think that if I was to quantify it for everyone, and you will see a proper presentation in the coming weeks by the two Mikes, Mike Timmins and Michael Henrichsen and company, but I would say it's probably one of the most misunderstood assets and missed underappreciated assets in the entire mining business and all of the dreams that people talked about Eastmain, when the discovery was made, we've seen them all to be true. And in six weeks, we've done more work than the average person would do on a takeover.
We took a lot of risk by revealing a lot of our insight internally and with the Eastmain side. And we've come to a flection point where we're ready to go drill 50,000 meters weeks after this transaction completes, November 1st. And that's a big testament to the aggressive nature of our group. To risk the money and intellect and risk contractors and everything else to be ready to drill three weeks after the acquisition, that's rare. Normally, in an acquisition it's three months later. You start all that great work right after you actually get the keys to the car, but we took a chance and we really appreciate the shareholder, the strong level of support, we took the chance that we were able to convince shareholders on both sides, that this was the right thing to do. So we're ready to start drilling those 50,000 meters and show everyone with the drill bit exactly how good we really think Eastmain is, which we think at least double, possibly triple, the size of where it is in the first major pass that we take on it from an exploration perspective.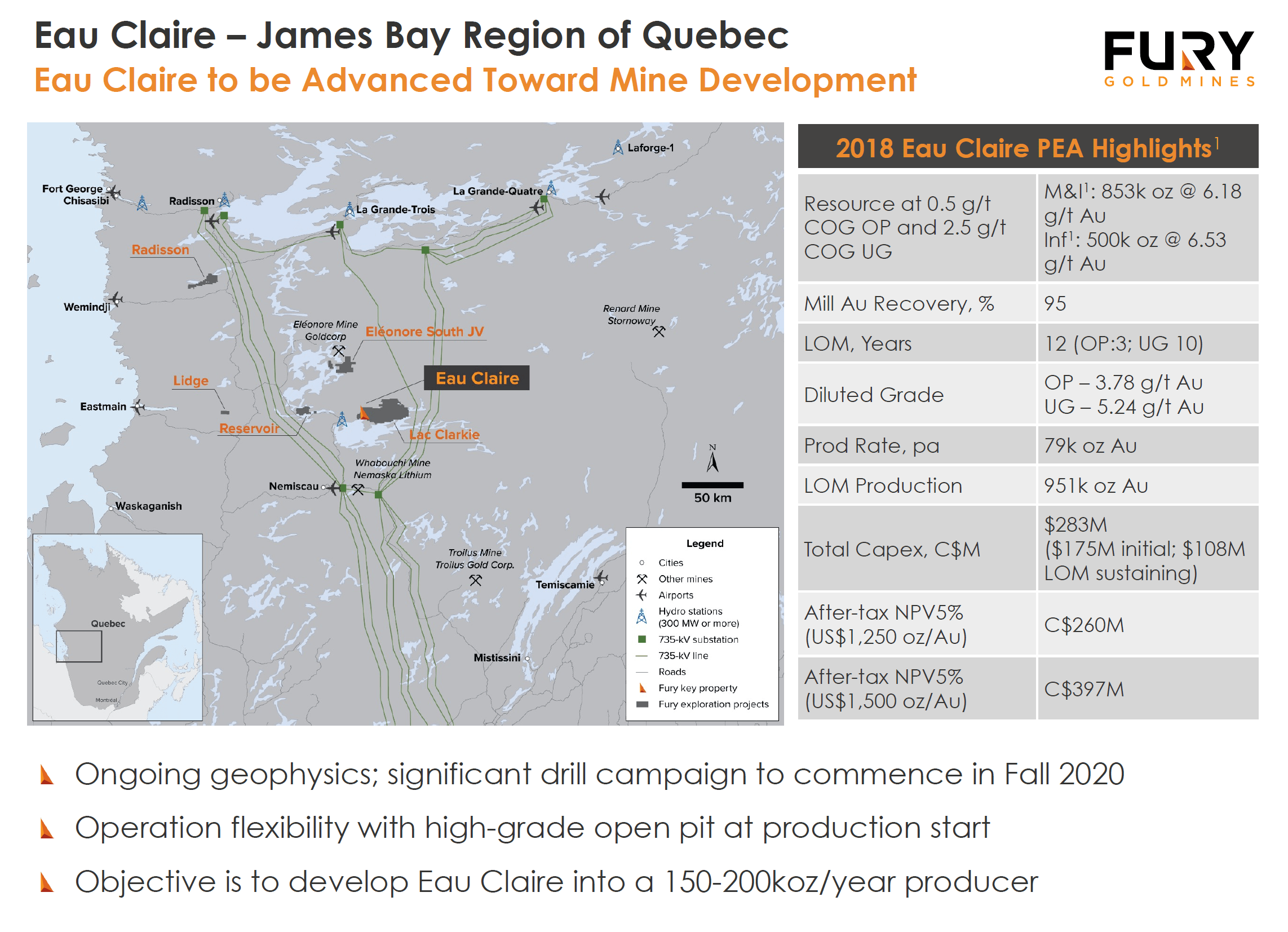 Bill: So Fury will be trading on the big boards in Toronto and in New York. And I'm an American as you know. So when I look at gold developers on the New York big board, there aren't that many. Have you done a comparison of what we might expect in terms of performance, share price-wise, on the big board?
Ivan: Sure. Well, it's trading above the price we financed that right now if you do the math on the deal, but the stock really needs to have a chance to trade as Fury. And there's been so much value complexity over Auryn's assets. What percentage are Peru? What percentage are Eastmain's? And something one of the funds that we were marketing to in our financing for came up with, it was pretty interesting because then they asked us for the spot value of the NPVs of both Eau Claire and of Homestake. And they wanted to know what that value was. And they were using spot price for gold, which is rare. Usually, you use a three-year trailing price, but it really did show the leverage it has, the gold price, because it came in as a combined NPV around $900 million. And company was financed at about $200 million or $220 million valuation.
So I think there's a tremendous amount of value that's there. And we all know pointing towards a pile of gold in the ground or a bunch of bounces on a PEA is not how you get value for shareholders, it's how you sustain value. We know more importantly, that drilling is the path towards a performing share price. And you asked me how it's going to trade. Well, 50,000 meter drill program, that's huge. And it's followed by another 30,000 to 40,000 meters within the same 12 months from the start of November. So I think to come out of there, I think it's going to be a really exciting exploration program, very big in terms of magnitude. And Fury becomes a drilling company. And drilling is where the value is going to become. That's a constant catalyst for 12 to 14 months of potentially adding significant gold to the portfolio.
So if I look at the big board and I look what's happening around the industry, very few companies are signing up for 90,000-ish meters of drilling of growth and towards development. So I think it's going to come out. It's going to do really well. I think it's going to come out undervalued. It's going to take us about 30 days to 60 days to get the value. But when the first results start coming out of the drilling we do at Eau Claire in January and February, I think we're going to be in a really good place for our share price performance for shareholders.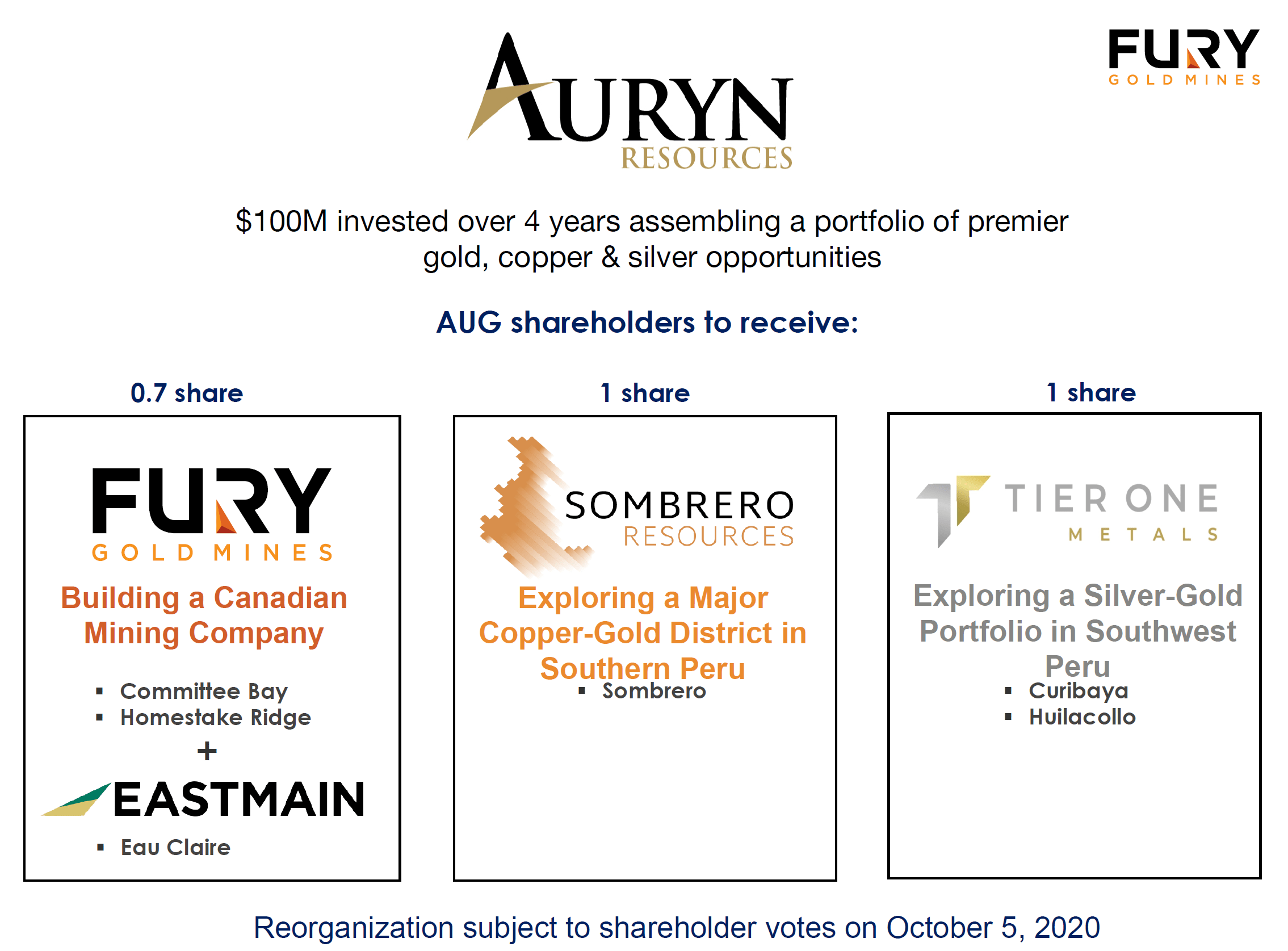 Bill: And do you expect any sort of sell-off coming out of the gate when you say 30 to 60 days to achieve value? What price action do you expect out of the gate?
Ivan: Trying to call the future, we have an election in the background and that's my only variable, another vote. Thankfully our vote is passed, but another vote to worry about. And so I'd say that the market's probably going to be a bit cautious everywhere, and we'll be a victim of market conditions. But I think that a lot of people really wanted to buy into Fury and they wanted to buy into it under whatever value would be created when Fury was Fury versus the complex math that was necessary during the deal. So our goal is going to be to trade at least at Auryn"s share price of $2 US or $3 to $4 Canadian in Q1, possibly much more. That's me being conservative. And I'm doing that based off of how things are going to involve the entity we've formed. And then from there, once we get into the thick of the 50,000 meter program and we go up North to Committee Bay and Company, the goal is no different than it was with Auryn, is to get to a $10 to $20 share price within 18 months.
And we see that as a path forward, we see that as very few holes out of the hundreds of holes we're going to drill between all three projects in Fury being a path towards those kinds of returns. There definitely is the real estate that's ready for major discoveries, not just up at Committee Bay, but also within Eau Claire expansions, new targets that have never been explored, as well as the feeder structures to Homestake. So I think there's a real good path here towards making a $10 to $20 share price in the next 18 months. I think once the election subsides, I think the gold market will be on properly, that bull market that we all saw starting gets to be felt in real time where we're drilling all these discovery holes. And that's just the beginning. I can't predict discoveries beyond what I see and that I can evaluate with the group here, but there are substantial steps here. We're taking major swings and have major targets and it's going to be exciting.
Bill: Ivan, we've been talking about dates in the last month as I've brought you on the show several times. What final date should we be aware of regarding this transaction and the spincos and so forth?
Ivan: Sure. A lot of confusion here too, even with ourselves. And what we can tell you publicly is that you can buy shares of Auryn by the close of business on Thursday Oct 8th, you'll end up with 0.7 shares of Fury. You'll end up with one full share for Sombrero and one full share of Tier One Metals. So you have until close of business Thursday. We came out with the final vote announcement today, there will be a bulletin by the TSX Exchange in Toronto, the big board, which will summarize the final dates for all shareholders of what's official. But I do know that close of business Thursday is the last time you can buy shares to go and execute that. Now, one other point on that is the strategy. A lot of people asked us, "Why are you unlisted and how long we'll be unlisted for." And there's a little bit of frustration from some shareholders.
Well first off, we think Fury by itself will trade through Auryn's current valuation, even after the 0.7 version. We think we'll get through that in a very short period of time. Secondly, the goal is to get the momentum going into discovery at Eau Claire with Fury. So there's a really good wind behind the back of the Fury share price, the momentums trading. And then we bring back Tier One Metals, which we hope to have drill permits on more than one asset. Obviously there's one main asset that we're talking about. There's more coming, that's going to happen between now and when it trades. And then thirdly, once Tier One Metal's well on its way a month later, we plan to come back with Sombrero to the strategy. Our bill was, we want to create a cascading effect of momentum across exciting discoveries across all three companies.
And that's, what's going to happen here I think going forward. We're going to have a really good running through all three companies provided the exploration results deliver as we anticipate them to do. But each company should come out really strong. So basically, all your shares of Auryn will have two free spinco shares is what we're trying to achieve. So both spin co shares will have a zero cost to you and we're trying to open them around the $1 to $2 US, over $2 US before those companies actually drill, that's what we're working towards.
Bill: Ivan, just one clarification. I believe in past interviews, we mentioned October 9th. So just to clarify for listeners, it's October 8th now, that is the cutoff?
Ivan: October 8th, close of business is the cutoff. I would say that the exchange will put out a bulletin that will give us exact dates. But we do know that October 8th cutoff is safe. So do not wait until October 9th, please disregard the October 9th comments. There was some confusion there. For clarity, close of business October 8th is your last time to get spinco shares.
Bill: And then Auryn will trade as AUG through Friday, and then come Monday, we'll see F-U-R-Y. FURY trading?
Ivan: I understand on Monday and Tuesday, Monday in New York and Tuesday in Toronto will be the FURY symbol. So we will be trading, I believe, as FURY, and those final details to come by the exchange here shortly. So we'll stand by for that bulletin.
Bill: Ivan, before you go, just one quick note on your management. Looks like you've been exercising options. Can you speak to this please?
Ivan: Absolutely. And first off, any options that are exercised will go into the treasuries for the Peruv spin cos. And right now, we're anticipating about a $6 million and a $4 million, possibly $7 and $5 million treasuries for the Peruvian spincos, which is substantial. So we've actually encouraged all of our employees and directors at their convenience to exercise options where they can ahead of the final completion of the deal so that we could put more capital. It's basically a very inexpensive way to finance, but it does involve some selling of shares. So please don't be put off. If you see some insiders selling a few shares, nobody is selling shares to take profits. These are cashless exercises, meaning only selling enough shares to cover the costs of the exercise of the option and the withholding tax. But the volume you're seeing, and if you're wondering why the price hadn't been performing more, it's solely because there's a few options being exercised and it's going to cash up the Peruvian spincos.
That's critical because both of those Peruvian spinco& will come out with all of the permitting and or acquisition money needed in 12 months or longer of GNA work in capital. And that's going to put both of the Peruvian spin cos in a position to lobby for substantial financings as they come back or prior to coming back in trading that we're going to plan to do, and at a much higher prices than people originally anticipated. And when I say that, I think between $1 to $2 US is what we're aiming for on a really good valuation proposition. Obviously, we have some work to do there. We're going to keep putting out press releases on the Peruvian spincos. We're going to keep podcasts up with the developments that happen there. But prior to trading, these companies should be really well-funded and there'll be a lot of news in the next few months so they can come back with very strong performances from day one.
And on that note, to finalize, I would encourage anybody who wants to be part of the Peruvian spincos to do it now through Auryn versus waiting for those actual shares to start trading, because there is the possibility that we could be in a very strong environment in terms of Q1 commodity prices. And we might daylight a ton of value for each of those entities with additional surface work, as well as acquisitions. And that would make their price proposition much higher should we come trading than what people have somewhat assumed off of the deal transaction. So we valued Peru at US$46 million as is, and that's fair, but all of the news that's coming that I'm hinting towards or being very, very transparent about, it has to do with acquisitions and more results that we're going to get from work we've been doing on the projects currently. So I think now's your time for sure.
Bill: You've been listening to Executive Chairman Ivan Bebek of Auryn Resources. The website, again, is AurynResources.com. Ticker symbol in Toronto and in New York is AUG. And the new resulting company is Fury Gold Mines. And you can find that very soon in about a week under the ticker FURY. Ivan, thank you for the update.
Ivan: Thank you so much for having me, appreciate it.