by Pam Martens and Russ Martens
Wall Street on Parade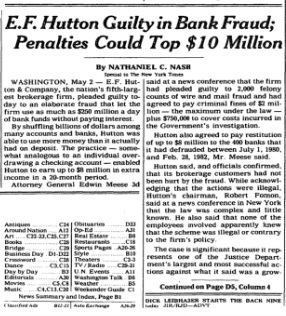 On May 2, 1985 the highest law enforcement officer in the United States, the head of the U.S. Department of Justice, Attorney General Edwin Meese, held a news conference to announce that the sixth largest brokerage firm on Wall Street, E.F. Hutton, was pleading guilty to 2,000 felony counts of wire and mail fraud. It had also agreed to pay criminal fines of $2 million and up to $8 million in restitution to the 400 banks it had defrauded. The fraud had lasted less than two years, from July 1, 1980 and February 28, 1982, and consisted of the following according to the Justice Department:
"The essence of the charges was that Hutton obtained the interest-free use of millions of dollars by intentionally writing checks in excess of the funds it had on deposit in various banks."
On the following day, Friday, May 3, the New York Times put that story on the front page of its newspaper.
Now, carefully consider what happened three weeks ago.
Continue Reading at WallStreetOnParade.com…