by Pam Martens and Russ Martens
Wall Street on Parade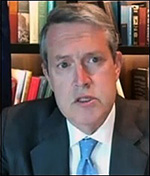 At the time the Fed released the results of its bank stress tests in June, it announced that because of the pandemic and unprecedented economic downturn, it would require additional stress testing of the biggest banks later this year. This afternoon, the Fed released those plans.
Among the various hypothetical scenarios that the banks will have to perform against, 13 of the banks with significant trading operations will have to consider what would happen if a major counterparty blew up. The banks that will have to submit outcomes under this scenario include: Bank of America, Bank of New York Mellon, Barclays US, Citigroup, Credit Suisse, Deutsche Bank USA, Goldman Sachs, HSBC, JPMorgan Chase, Morgan Stanley, State Street, UBS, and Wells Fargo. The Fed will release bank-specific results before the end of the year.
All 34 banks will face two hypothetical scenarios featuring severe economic downturns. Both hypothetical scenarios feature high unemployment continuing into 2021.
Continue Reading at WallStreetOnParade.com…