from Zero Hedge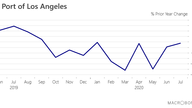 Submitted by Christopher Dembik, head of macro analysis at Saxo Bank
In today's edition, we focus once again on global trade and the U.S. economy in these unusual circumstances.
One of our favorite coincident trade indicators is the evolution of container volumes at the Port of Los Angeles. As it is the number one port in the U.S. in terms of container volume and value and the busiest entryway for ocean trade with China, any major change in data could be of great significance for the global and U.S. outlooks.
The least we can say is that the economic panorama has hardly improved in recent months if we rely on shipping data.
Continue Reading at ZeroHedge.com…