In this interview, Luminex Resources (TSXV: LR | OTC: LUMIF) President Diego Benalcazar and CEO Marshall Koval provide a company update and explain why their Cascas gold-copper target so prospective. Luminex will begin drilling the Cascas project in late 2020 or early 2021. Diego explains that the company is currently building the onsite camp after having developed a strong relationship with the local community. Marshall elaborates on the excellent, recent drill and metallurgical results from the Condor project (5M gold oz). Marshall also recaps the upcoming catalysts for Luminex as the company hopes to have four projects with drill rigs turning before year-end.
Click Here to Listen to the Audio
Continue Reading at MiningStockEducation.com…
0:00 Introduction
1:40 Potential of Cascas large gold-copper project
5:10 Why has Cascas not been drilled yet?
6:16 Gaining trust of locals prior to drilling Cascas
8:51 Cascas drill permits
9:59 Accessing Cascas and building the camp
10:54 Balancing greenfield and advanced-stage projects
13:41 How many drills will Luminex have running?
14:05 Excellent drill results at Condor project
15:28 Positive metallurgical results at Condor project
18:28 Balancing Condor's expansion drilling and engineering work
TRANSCRIPT:
Bill Powers: The market doesn't know much about the Cascas project yet. Why are you excited about this property and what is the potential that you see?
Diego Benalcazar: We have been keen to select proliferous ground in Ecuador. And basically what we have in Cascas is part of a legacy of exploration work that was done in the past. Bits and pieces of information from a few companies doing detailed geological mapping and some sampling. But what we had as far as knowledge of the area in Cascas really helped us define the size and location of these sessions. Basically what has been found through these efforts, which are basically initial exploration efforts is a two phase porphyry copper gold mineralized system. This system is very, very important in size. It's one of those anomalies that compliment basically the idea that we are in elephant porphyry country, and most of these porphyry systems do have expressions of epithermal type minerals.
In our case, we do have a well-defined anomalies of corporate in the Northern part and copper anomalies combined, or printed to copper anomalies in the Southern part of Cascas too. The system, as we are finding, has five kilometers by two and a half kilometers, a coincidence anomaly of copper-moly and a three times 2.5 kilometer coincidence of gold arsenic anomaly. When we started the program, the project had some legacy information from running aero-magnetics and radio metrics ariel survey. It had some soil and rock geochemistry, but very basic. We've complimented all that information by doing some detail geological mapping, structural mapping. Early in the year we finished flying a ZTEM electromagnetic airborne system. And now we are in the process of sampling a soil grid, which is 300 times 300 meters in distance per location of every sampling station. So we're about to finish collecting 670 soil samples for geochemistry and complimenting that with about a hundred rock geochemistry samples.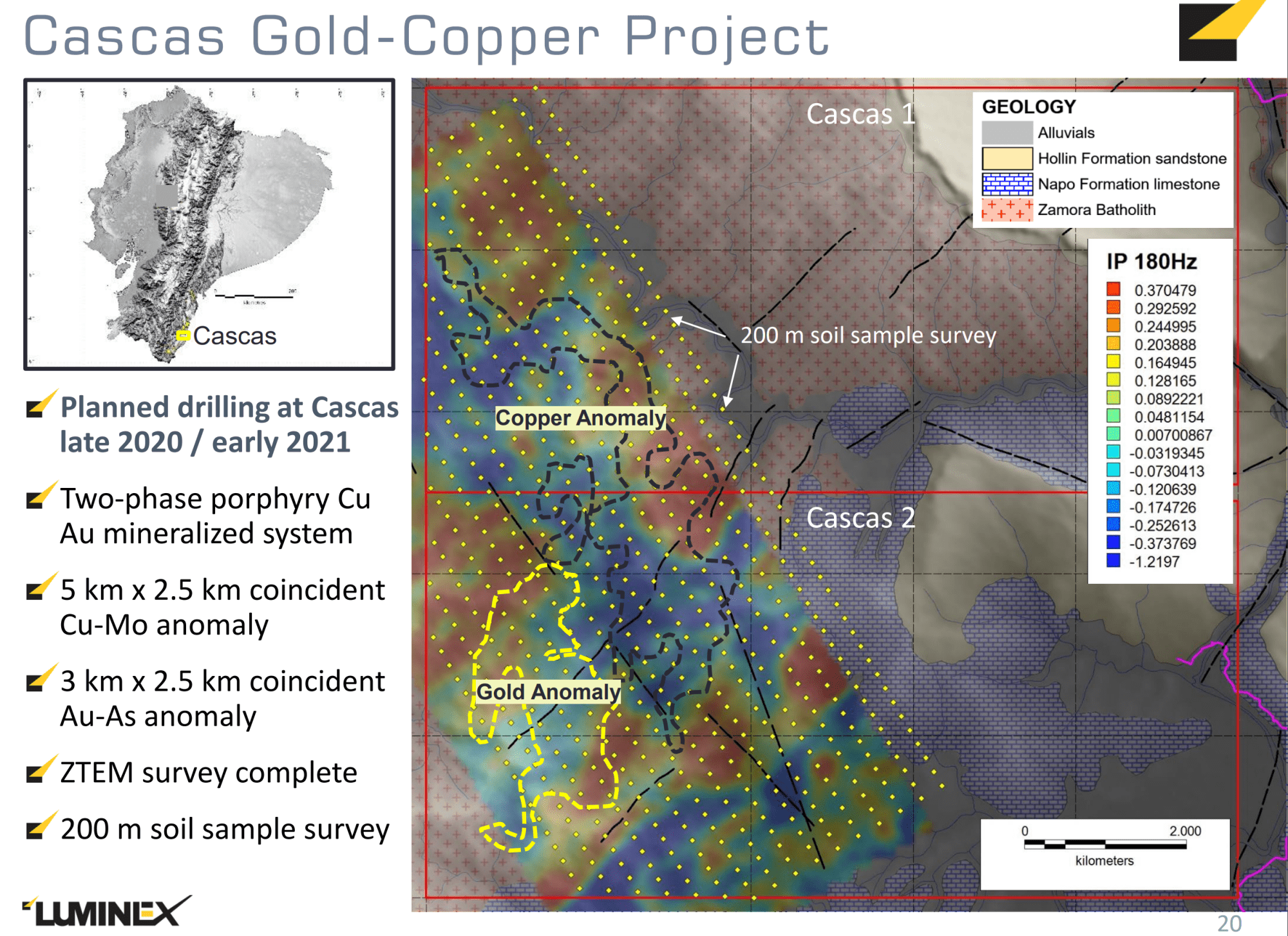 Bill: The Lumina Group has experienced above average success when it comes to finding deposits. So is what you described part of the process that you go about to minimize risk of missing. When you initiate a big program like this?
Diego: The only way that you can be better aiming at a good target is when you do systematic work. And this is just what we do. We do step by step. The process that really will respond to trying to depict and narrow the area that will deserve a drilling in the future. And even when you come to drilling you start with scout drilling to test initially the area.
Bill: How come no other companies have drilled this target yet? What's a little more of the history of the property?
Diego: First of all, Ecuador is not a mining tradition country. So it's only in the past 15 years that after major discoveries Ecuador turned out to be a destination of investment. This area in particular has been very, very remote. The access to the area by road to the edge of the Eastern part of the concession was only built eight years ago. So basically, this being so remote and being ancestral territory for local Pomeranian people, we have done a very interesting job into complimenting our efforts of exploration by running interesting community programs that's why basically there was not truly a barrier of interest to anybody, but it was so remote and so unknown and Ecuador was not truly a mining and exploration destination.
Marshall: This is Marshall. You know, Diego is being a little bit modest here because one of the key aspects of getting into a remote area in an indigenous territory is how you really deal with the people and gaining trust. And we pride ourselves as a company of having robust social programs, social, environmental, good governance. And Diego was firsthand on the ground helping us work over a long period of time to get this access. So it isn't a total barrier, but the trust is a key issue and maybe Diego can detail some of those steps that we took and how we got there.
Diego: Well you're dealing with a cultural vision, which is totally different from the Western vision we do have about the environment and how life develops in trying to really land your ideas into what they need and what they'd like to do and have, and who they would like to get associated in a way with. It takes a long time. And building that trust is really trying to talk their language and not as a matter of saying and it's only possible when you step by step prove that you are there to provide a better situation in terms of health and income, and also to help them enhance their productivity in different areas.
So, for us, it was an effort of more than a year and a half of talking to the many different institutions that is, it's sort of an indigenous political structure that you need to talk from the level of the higher hierarchy to the local households. And they all function with the authority of the higher hierarchy level. And so it's step by step and coming from top down until you can really prove that you're doing any efforts to put them to have a benefit of the company walking around, exploring, and at the end provide jobs.
Bill: So, it's about trust I'm hearing you say, not just about giving them things that they physically need.
Diego: They don't go for that truly. They don't go for that. That was the old, the old-fashioned way of trying to accommodate yourself. And that's not going to really create a long term relationship. The only way that you can really work with them is with functional components of a social program,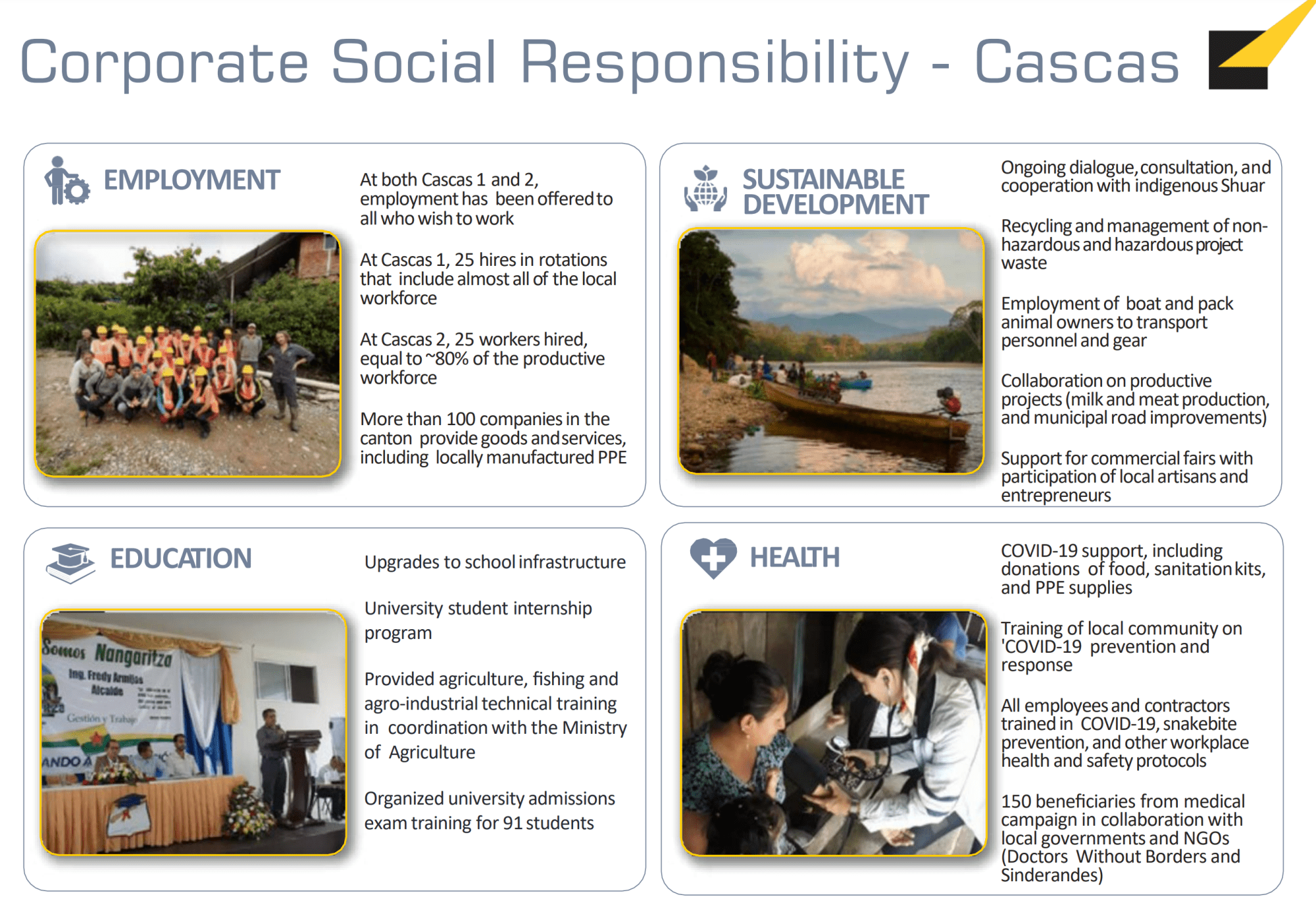 Bill: What does it look like for drill permits for a project like this? How was it working with the Ecuadorian government over drill permit?
Diego: We've had some difficulties from the government to understand the need to expedite permits in time. But knowing that this is a complex situation the mine's ministry did create a solution for that matter, which is called the scout drilling program. You can under early stage or early exploration stage in a concession, you can apply for a scout drilling permit until you finish obtaining the environmental license. So prior to the environmental license with the scout drilling, you are allowed to drill up to 40 platforms in as many drill holes you could do from 40 platforms. So that's the way we have been developing our grassroots projects. And as a matter of fact this has proven to be the solution to many of the companies getting a domiciled in Ecuador.
Bill: I assume you would have to build some roads to get the drills in there. What's that process like? And how far along are you
Diego: We don't like building roads? Actually, we will be bring in more non portable rigs. The only road that comes into the town will help us bring by truck the major elements from their own. Everything is brought in by hand. So what we do, and also the law does a control that we use on the very narrow tracks where you have to either hand pull or hand bring the equipment in. But also we make a good use of the rivers coming in. So we are floating the equipment and we are bringing up and down the required goods for the camp, and this the way that we also bring the samples out of the concession.
Bill: Marshall, you have these Greenfield projects like Cascas, which has a blue sky potential, but then you also have a 5 million ounce and growing gold deposit on your hands with Condor. So at the executive level, how do you make a decision of where to put your efforts and spend the money: greenfield versus this existing project?
Marshall: Yeah, that's a really good question, Bill. We're blessed in that we went into Ecuador very early. Diego was the key component of our team starting back in 2013. And as you'll recall, we have The Congrejos Project and Lumina Gold, our sister company. And we had built up all these assets through acquisitions of Ecuador Gold and Copper. And then when they opened up the concession system in 2016, 2017 timeframe, we acquired a lot of highly perspective project. So along those lines, we looked at being primarily a gold player, but because of our history and Lumina Copper, we acquired some really good copper projects. We spun those off in JVs with Anglo American and it was BHP. And so that sort of left us focused on gold.
We have other targets besides the condo project and the Cascas, but Condor and Cascas are two most prospective areas. Obviously the 5 million ounce resource at Condor is well-advanced, we're doing metallurgical work. We're starting to look at scoping PEA studies where we're doing some initial look at infrastructure and engineering and hope to advance that. But really when it comes down to it, it's always good to have another pipeline project in the prospectivity that Cascas has in this quite large gold anomaly that Diego was talking about really begs to be drilled. And so for us, it's a relatively low cost exploration program with a high degree of potential success. So we're really excited to get out and get Cascas drilled. Meanwhile, we've continued with our operations at Condor and the Camp zone moving the project along. We have a drill going right now. We have a second drill available and with COVID we're slowed down a bit, but we're moving along. So that's really how you look at things. I think if we had a situation where we hadn't done so much work with the community at Cascas, we wouldn't even envision drilling right now, but we are so far advanced that we've got good protocols for health and safety with the community and with our projects that we feel pretty comfortable continuing to work at Cascas like we are now.
Bill: In terms of catalyst for the company, you would have at least four projects with drills running then right now, right? Condor Cascas and your two JVs.
Marshall: The plans are to drill all of those. COVID has slowed down both Anglo and BHP who had plans to be drilling this year. It still may happen. At Condor we are drilling, and then hopefully by year end, we'll drill the target at Cascas.
Bill: Marshall, What more can you share about the excellent drill results that you put out since we last talked? One of the press headlines said Luminex intersects 25 meters of 3.3 grams per tons gold at the Camp zone. What's the significance of this?
Marshall: Yeah, that was pretty interesting. We have sort of drilled about 500 meters along strike of the camp zone and about 600 meters vertical. A lot of the mineralization is related to these rhyolites that have been intruded. And you get breccia zones, both in the hanging wall and foot wall above and below the rhyolite. And we have been primarily testing the hanging wall side, the upper side of these rhyolites and this last hole that you referred to, we've got deeper into the deposit. And we found that the mineralization is not only in the upper hanging wall and in the rhyolite itself where it's been broken up, but it continues into the foot walls. So that was towards the tail end of our drilling. I believe the last hole we publish was hole number 33. And so we've been really happy with that. So now we're looking at going back to the Northwest and looking at some shallower targets on some areas that we've recently got access to, and we'll continue to look at drilling there.
Bill: You also did some initial engineering work with metallurgical results that you announced. It says 95% gold recoveries and 80% silver recoveries. Can you elaborate on this a little please?
Marshall: I've been in the mining industry some 40 plus years, and I've done a lot of metallurgical work and a lot of projects. And the camp zone itself is one of the better metallurgical responses that we've seen and laboratory testing. We had 300 kilos of core samples sent to a laboratory in Lima from 14 holes. And if you look at, we had a low grade, high grade and a medium grade sample that we did. And if you look at how in current metal prices gold is probably 85% of the revenues and silver is another sort of 6-7%. So about 91-92% of the revenues of the camp zone is going to come from golden silver. And we've got excellent response on that. You recover sort of 33-34% of gold in a gravity concentrate alone.
There's coarse gold. We've actually seen visible gold in the core. And then the rest of it, you run through a leaching cycle through a CIL treatment plant where you leech bulk concentrates after the gravity circuits. That gives us the 95% gold recovery. And then there's also after you leach it, you've got the potential to recover lead and zinc in a concentrate. So if you look at silver gravity, CIL and lead zinc concentrate, you recover about 80% of the silver, 56% of the lead and 62% of the zinc. And the other thing that was kind of interesting, it was pretty low cyanide consumption.
So all those things bode real well for real positive metallurgical response. And also finally it didn't require real fine grinding to liberate the gold. You liberated about 97% of the gold in a fairly course ball mill circuit, so that bodes really well for the metallurgy at the camp zone. And we've done other metallurgy historically at Los Cuyes, Solidad, and in Santa Barbara, some of the other resource areas at Condor. The metallurgy there is usually 80% to 90% gold recoveries for most of those areas. So metallurgically the Condor Project has shown us a very good response to gold recoveries and other metals.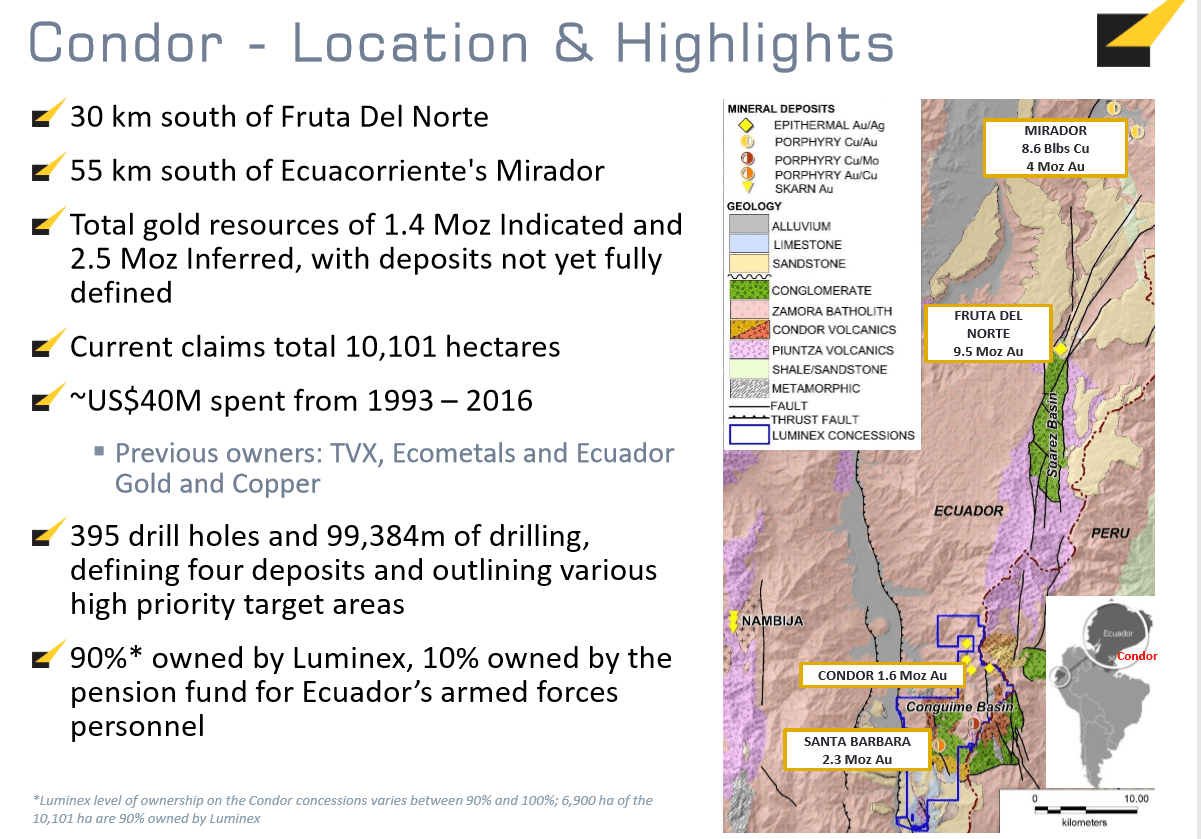 Bill: What is the plan for balancing engineering studies with expansion drilling? Can you speak to that? What should investors expect with this project?
Marshall: So we've done some work to try to extend the strike length and we're doing some drilling that has been sort of step out drilling quite a ways, trying to define other areas where the camp zone might continue. We know more or less where the camp zone is now. And with the resource estimate that we published recently the real focus is less so much on drilling today, but stepping back and trying to scope a project that we can move forward with a PEA. Probably looking at around the $1,500 an ounce gold range as a base case. And so we're working with mining engineers. We've got these metallurgical results now. So, the project shifted a bit away from just an all out drilling program. We'll continue to drill as we go along. But now we're trying to focus on, can we define an engineering project that looks good? Haywood has done some research. They put forth their plans and what they viewed the potential project might look like in a production scenario. And we're doing our own work internally as well.
Bill: So as investors look towards the end of 2020, are there any other catalysts for the company that they should be aware of?
Marshall: Well, I think as I mentioned earlier, our partners in BHP and Anglo, and hopefully they'll be able to get to the field. I know they both want to start drilling. They've already defined drill targets. BHP at Tarqui has a program defined in the real high-grade copper areas sort of work that we've done has been plus 1% copper and rock out crop and soils. So they'll be drilling that target. And then Anglo American has defined a geophysical anomaly that's real prospective for copper, and they've done a lot of surface geology and such a prospect called Medusa. And hopefully we'll see them drilling as well. So I think if we weren't in the COVID area, we'd have, like you mentioned earlier in the next little bit by the end of the year, have four drill rigs going on four different projects. And hopefully that'll still happen sooner than later.