from Zero Hedge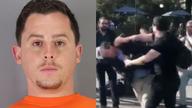 Authored by Adam Sabes via Campus Reform,
Authorities in California arrested 30-year-old Zachary Greenberg on Sunday, who, as one local newspaper reported, is also the man accused of punching a conservative activist in the face on the campus of the University of California-Berkeley in 2019.
According to the San Mateo County Sheriff's Office, Greenberg allegedly stabbed a man because he was riding his bike on the sidewalk.
The victim suffered multiple stab wounds by the time police arrived at around 6:40 p.m. and arrested Greenberg.
Continue Reading at ZeroHedge.com…