from Zero Hedge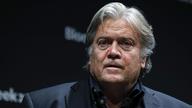 One day after a report that a respected Chinese virologist fled Hong Kong to accuse Beijing of a COVID cover-up, former Trump strategist Steve Bannon told the Daily Mail that scientists from the Wuhan Institute of Virology and other labs have defected to the West and are "turning over evidence" against the Chinese Communist Party (CCP) for their role in the COVID-19 pandemic which has claimed over 560,000 lives worldwide since last December.
"People are going to be shocked," Bannon told the Mail ("from a yacht off the East coast of America," the Mail would like us to know).
The 66-year-old then said that defectors are cooperating with intelligence agencies in America, Europe and the UK, which have been assembling evidence to challenge the CCP claim that the pandemic originated in a wet market – not in a lab home to scientists who have come under fire for manipulating bat coronavirus to be more transmissible to humans.
Continue Reading at ZeroHedge.com…