GR Silver Mining CEO Marcio Fonseca was an executive with SilverCrest Mines at the time when the company spun-out SilverCrest Metals in late 2015. Through discovery, SilverCrest Metals's share price has risen about 130-fold in past four years. It is hard to beat the returns that a successful silver junior company can provide. And its exactly this type of out-sized gain that Marcio is now trying to provide to GR Silver shareholders.
In 2018 Marcio founded and took public GR Silver Mining which aims to create shareholder value through the discovery and advancement of high-grade silver projects in the Rosario mining district in Sinaloa, Mexico.
And the company is off to an excellent start as it already has a resource of 40M silver ounces. GR Silver is fully funded for at least 2 years of exploration and resource expansion drilling at its two 100% owned San Marcial and Plomosas projects. The company will see a steady stream of drill results over the next two years as well as an updated resource estimate in Q4 2020 or Q1 2021.
Click Here to Listen to the Audio
Continue Reading at MiningStockEducation.com…
2:12 Marcio's involvement at SilverCrest Metal's inception
4:14 Board and Management with strong track record of global mining related M&A
5:33 "Skin in the game" and how have you paid yourself?
6:40 Describe your leadership advantage
7:56 Rosario mining district: excellent geological setting for Ag-Au discoveries
8:42 San Marcial project: 40M AgOz and growing
11:01 Plomosas project: recent discoveries of high-grade silver/gold veins
13:27 Plomosas already has US$30M in infrastructure and US$18M exploration spent
14:07 Where will GR Silver Mining be in two years from now?
15:05 Fully funded for next 2+ years
15:24 Potential challenges?
16:45 Low cost of drilling
17:22 Consistent news flow of drill results and resource update
Ticker: TSXV: GRSL OTC:GRSLF FRA:GPE
Learn more about GR Silver Mining: https://grsilvermining.com/
Latest GR Silver Mining presentation: https://grsilvermining.com/wp-content/uploads/2020/07/GRSLCorpPresentation_July2020.pdf
TRANSCRIPT:
Bill Powers: Silver has been on fire this week. And when silver rises, the silver equities usually significantly outperform the underlying metal. And if you can combine a silver discovery with a silver discovery and expanding resource that can lead to significant gains for investors. One poster child example of this from 2016 until today is SilverCrest Metals. I remember looking at this stock. I didn't buy it, but I almost bought it at 8 cents U.S. in January of 2016. Well as I speak today, it's been in the last week or two, it's been trading between US$10 and $11 per share from 8 cents. That's a mere about 130 fold gain, not bad. So those are the type of silver equity wins that we look for as investors. And my guest today was actually a part of the group that launched SilverCrest. His name is Marcio Fonseca. He is the President and CEO of GR Silver Mining, a Mexico focused silver explorer and developer. And GR Silver has been around since 2018.
This company has really been gaining a lot of market traction, especially since PDAC of this year. I welcomed GR Silver Mining as a new show sponsor. The website is grsilvermining.com. In Toronto on the Venture Exchange, you can find it under the ticker GRSL. In New York on the OTCQB it's GRSLF, and in Frankfurt under the ticker GPE. So Marcio, welcome to Mining Stock Education for the first time. And as I referenced, you are part of that group that launched SilverCrest. Could you share a little more about your involvement with SilverCrest at its inception?
Marcio Fonseca: Thank you for having me here, for sure. It goes back to 2005 when I was an investment banker with Macquarie Bank, New York, and then came to live in Vancouver. My mandate for the bank at that time was to find opportunities to invest in new players in silver and precious metals in Latin America. Mexico became a backyard, and SilverCrest Mines was my first client. Very close relationship with the founders to the point that they invited me to depart the bank after successful career 10 years to become an executive and shareholder. And my mandate at that time was to help them to prepare the company for a potential M and A, which we completed in 2015, when the company was sold to First Majestic for $155 million Canadian dollars transaction, a great return to the investors because they received shares in SilverCrest Metals and shares the First Majestic, great return for everybody. I decided to go back to Mexico and create a new company in a district named Rosario, where I believe there was a great opportunity for discovery of multiple high-grade veins, silver and gold as well.
Bill: And you're going after quality assets, but you know because you come from the banking side, you also need a quality team. One member of your team is Heye Daun, who is the executive at the helm of Osino Resources. My audience will know Heye. He's on your board, but who are some of the other quality leaders that you have on your team there?
Marcio: For sure management and the team management and directors is very important. People need to be very business oriented and really have solid technical, financial, legal background. It's a good mix of people with banking experience, technical experience, myself. There's the VP of Corporate Development Trevor Woolfe, ex-Placer Dome. Both of us are fluent in Spanish. In these times of pandemic and restrictions, we can do a lot of remote management. On the legal side, have well known people that have experience in the securities. And the advisory board is important to refer that, to have the chairman of MAG Silver, another successful story. He's been working with us as well, Jonathan Rubenstein. And you can see that Derek White is the CEO of Ascot Resources, another successful gold store in Canada, but former CEO of Quadra Mining, another story that was sold at a premium. So we might bring additional people assumed with legal and Mexican experience, which is going to enhance our board position as well.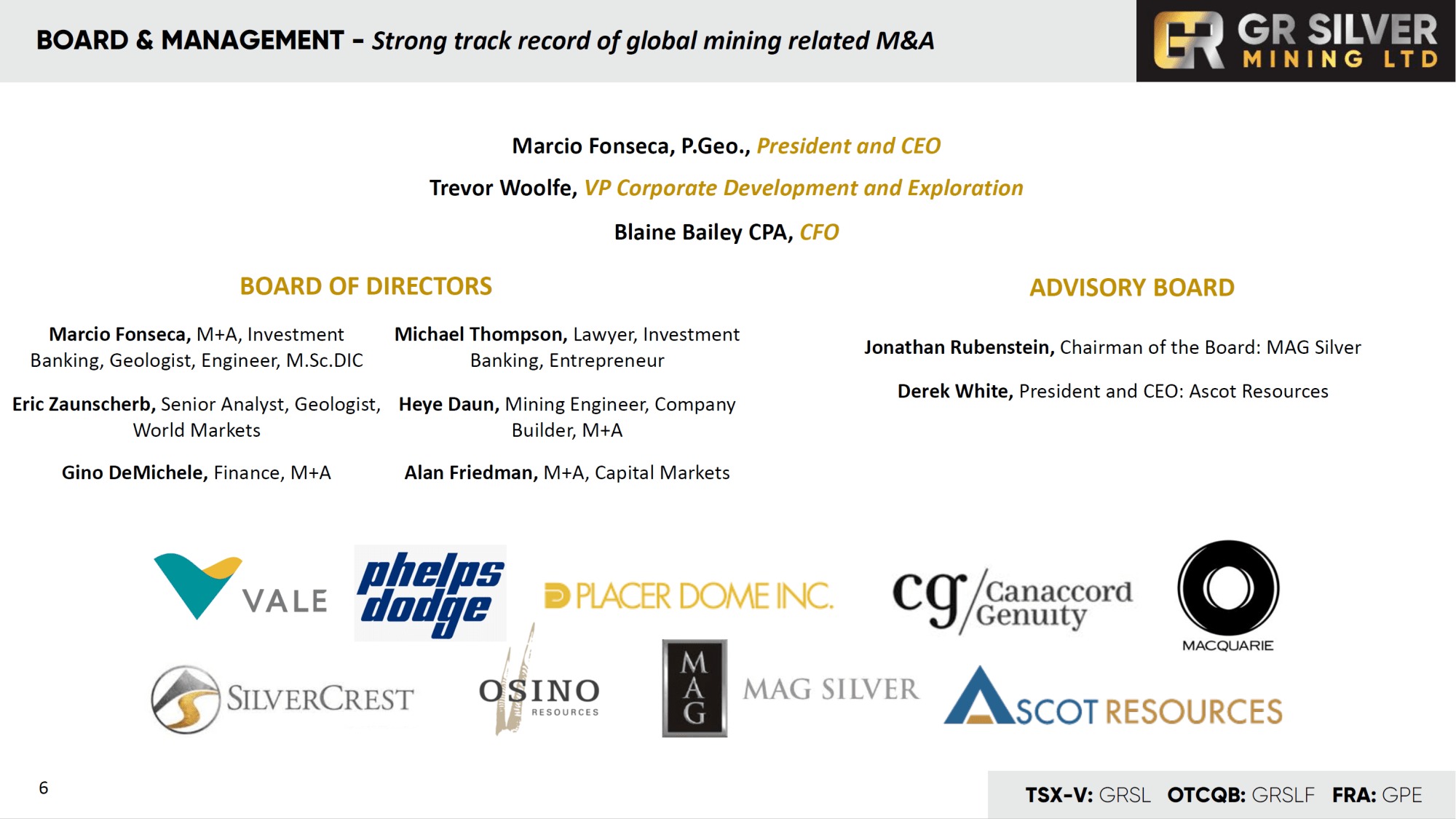 Bill: When you were a banker, I'm sure one aspect of your due diligence was looking at management's salary and "skin in the game." So with that in mind, how have you paid yourself, and what type of "skin in the game" have you invested in GR Silver Mining?
Marcio: I think the mining industry, particularly the junior space has a bad track record about this kind of corporate governance. I've been very diligent in the last three years to be really low paid salaries, because most of the capital of the company raised has been invested in the ground with drilling and expansion of resources and acquiring assets at low cost. As a matter of skin in the game, most of the key executives of this company, including myself have been participating in most of the financings. Until last March I was probably the largest shareholder because now First Majestic, since we bought the Plomosas Project became the first largest shareholder. And all the shares that I have until today, they were paid shares.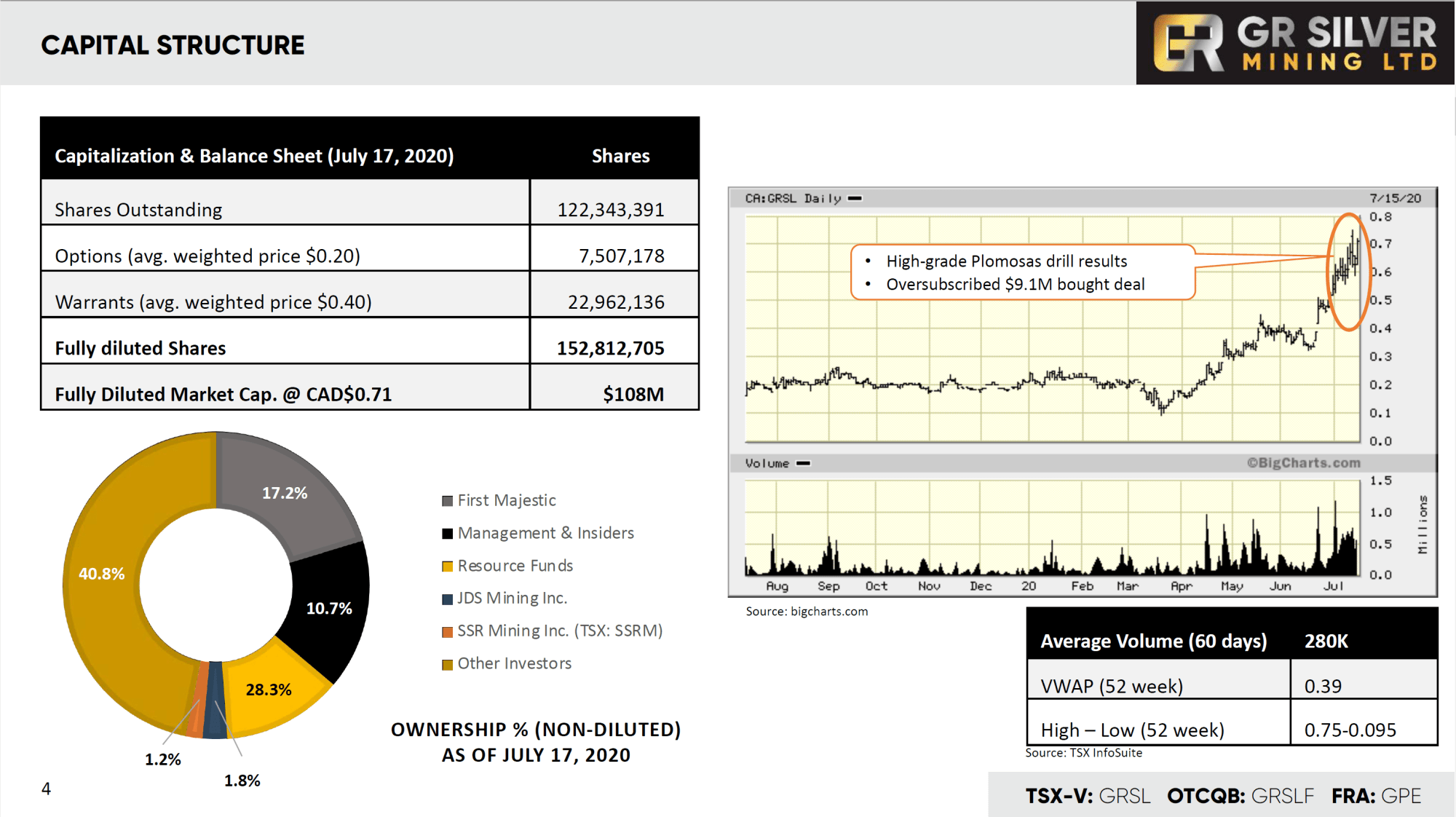 Bill: And with your skill set you're from the banking side. So what type of advantage do you feel like you have at the helm of GR Silver Mining?
Marcio: I have a dual background. I have technical and financial before I became a banker in New York and Vancouver. After I went to study finance in London, UK. I spent many years in Latin America as exploration geologist, project geologist, mine geologist, and also some economic engineering background in big operations for Vale and Phelps Dodge, big companies. I came to the U.S. and worked in the U.S. as well. So having this dual background helped me a lot when I joined a bank to do due diligence, technical, financial, legal, and identify risks and opportunities for the bank. And when we put together GR Silver at the Rosario mining district, we used that mentality. Where is the lowest risk and the highest probability of a higher return for the investment that we are doing? And GR Silver became a no brainer for us. And since then 2018, we've been consolidating assets in the district. And today I feel comfortable to say that we have the most important assets, silver and gold in that district, at resource expansion, potential development stage.
Bill: Vizsla Resources has made some noise in this district recently. Are there any other plays around that investors might be familiar with?
Marcio: Oh yeah, for sure. Another example is Prime Mining. It is a gold open pit resource stage project. They have a similar size of resource as we do. And the difference that we between Vizsla and Prime and us is that we have a much larger portfolio. We have 29,000 hectares. And in the case of GR Silver, we control most of the concessions and projects. We control a hundred percent, no major upcoming payments. So all the capital that we raised is pretty much going to be invest in drilling and resource estimation, and in engineering studies. That's the difference, I would say.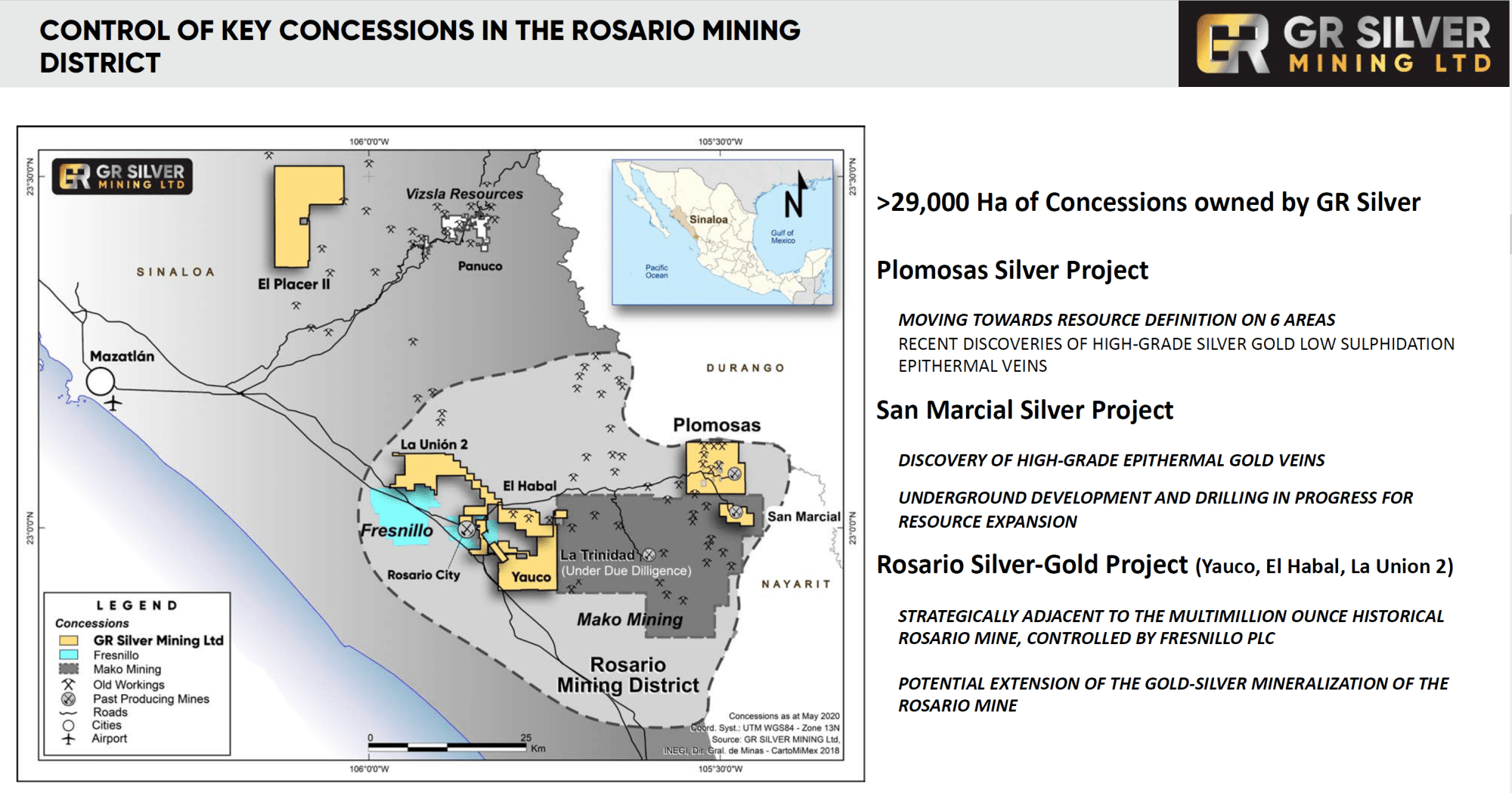 Bill: So you're debt-free, you own your projects outright. The first one is San Marcial. Can you give us a more in depth overview of this project?
Marcio: Yes, it goes back to when we took the company public two years ago. We were very quiet. The district is not what it is today. Today it is on the radar of most brokers and bankers because of the success of Prime and Vizsla. We acquired San Marcial in an option from SSR Mining, a billion dollar company, and the acquisition cost was probably close to 13 cents per ounce in the ground, very cheap when compared. Silver price at that time was $11 per ounce. Today's very different. The option is an investment in exploration, which we have fulfilled already the 3 million Canadian dollars of investment. And there's a payment of 2.5 million Canadian, which is small, and we might even anticipate next year. In two years, we've been able to almost increase the resource from 23 million ounces to 40 million ounces of silver.
And that makes the project very attractive, a potential open pit project for silver, low cost of development. Because now we bought the new one, the project next door, the Plomosas that has a lot of infrastructure, more than 30 million US dollars invested in infrastructure plus 18 million US dollars invested by First Majestic and Grupo Mexico in exploration.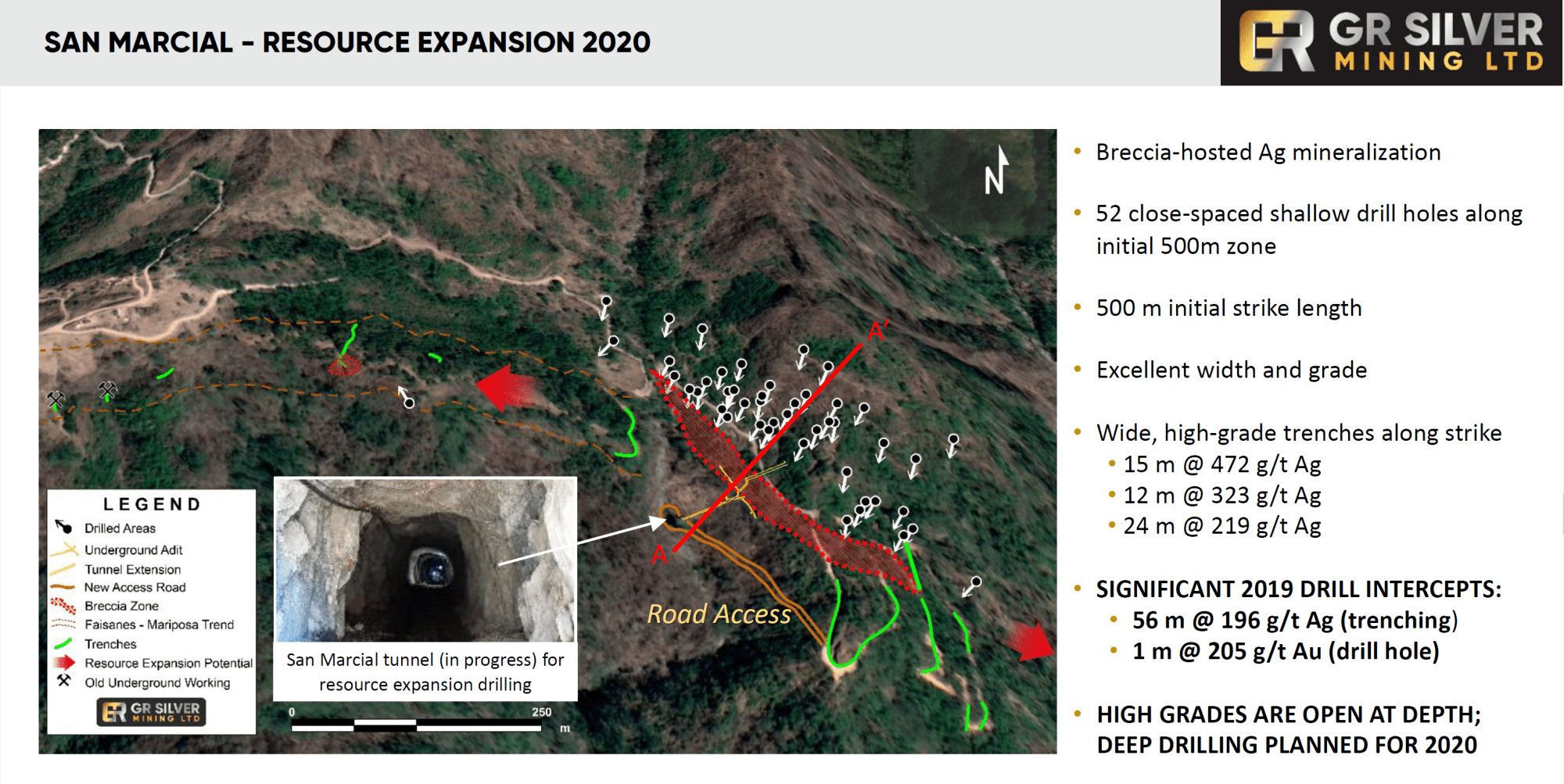 Bill: You're up to 40 million ounces of silver. I know your answer will be a forward looking statement but can you give us an idea of the potential beyond this 40 million ounces?
Marcio: The way we are approaching this now is to give an idea about how we have anticipated the increase the ounces like the San Marcial resource is on a 500 meters long area. It's a lot of drill holes, but it's one area inside the concession. Now we have Plomosas with six areas of drill holes, on average a hundred drill holes on each one of these areas. None of these holes were released ever by Grupo Mexico or First Majestic. And we are validating and releasing them. In that same time, we have just initiated a drilling program at the Plomosas. We have fresh drill holes. So we are going from one target with 40 million ounces of silver to six areas with drill holes to define resources on those areas.
Bill: Does the Plomosas project have potentially more upside than even San Marcial?
Marcio: We are very excited about Plomosas because Plomosas was a lead and zinc small mine. And when we got the data and completed the due diligence, we realized that not only was there was a lead zinc mine, but now we have six areas with all this drill holes, plus 11 additional areas never, ever explored. When we revealed the data, the drill holes data, 500+ drill holes, we came across a lot of zones that were assayed and the gold and silver was high grade. I'm talking about more than a thousand grams per ton of silver and ten grams per ton of gold in some veins that do not have lead and zinc, which showed us that there's an opportunity to define multiple veins, 11 meters wide veins, with really attractive opportunity to define resources in the future.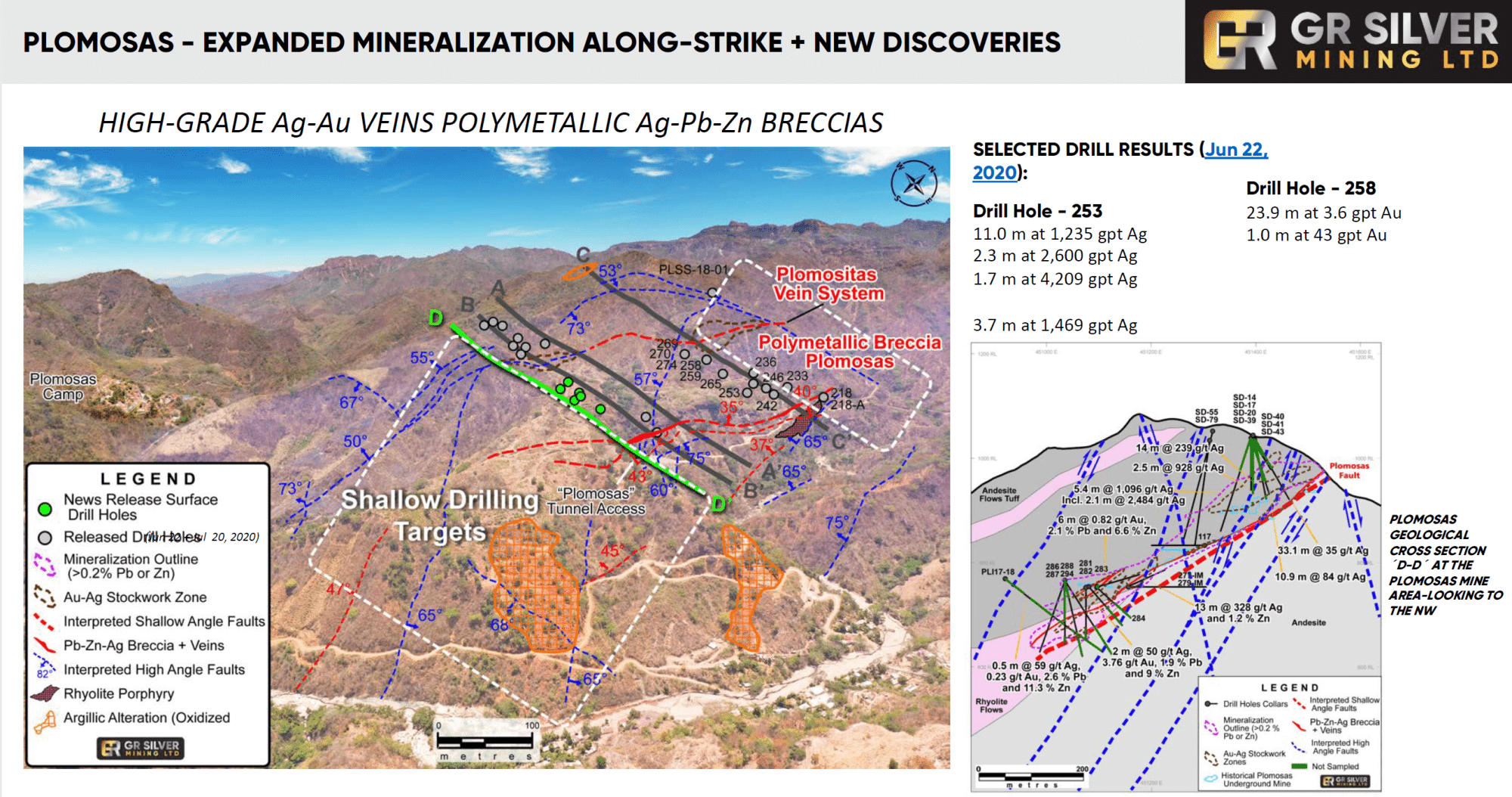 Bill: Marcio, skeptical investors will say, "Well, if the project's so good, why did First Majestic divest it?" How would you answer an investor that has this question?
Marcio: We've been in the area for the last two, three years, and they were our neighbors. They've been watching how successful we've been with San Marcial in a very diligent and a very effective way to deploy the capital to add ounces. We were invited by them to bid for the project. It was not a public bidding process. It goes back about also the relationship between myself and some executives at First Majestic, when I was involved in selling SilverCrest's Santa Elena mine to them. They realized that there were busy the San Dimas mine with the geology is not that much different than Plomosas. San Dimas is a big deposit. They invited us, we accepted the invitation. We bought the project, and they became the largest shareholder. In a way they took 20% equity investment in San Marcial because they became the largest shareholder 19.9%. But they still believe in the quality of the asset because the last bought deal, which announced initially at 5 million Canadian dollars and ended up raising 9.1 million, First Majestic invested one million Canadian dollars it's a big vote of confidence in the assets and the management of GR Silver.
Bill: And this project has about 50 million US already sunk into it, doesn't it?
Marcio: Sunk is 18 million US dollars in exploration. In infrastructure, 30 million US because you have a camp, we have a power line, you have roads. We have somewhere close to 8,000 meters of underground development. The Plomosas project has all the permits for exploration and exploitation. I mean, if the company decides to move further into the development and repair and do some mining, the authorization is there because it is a past producer.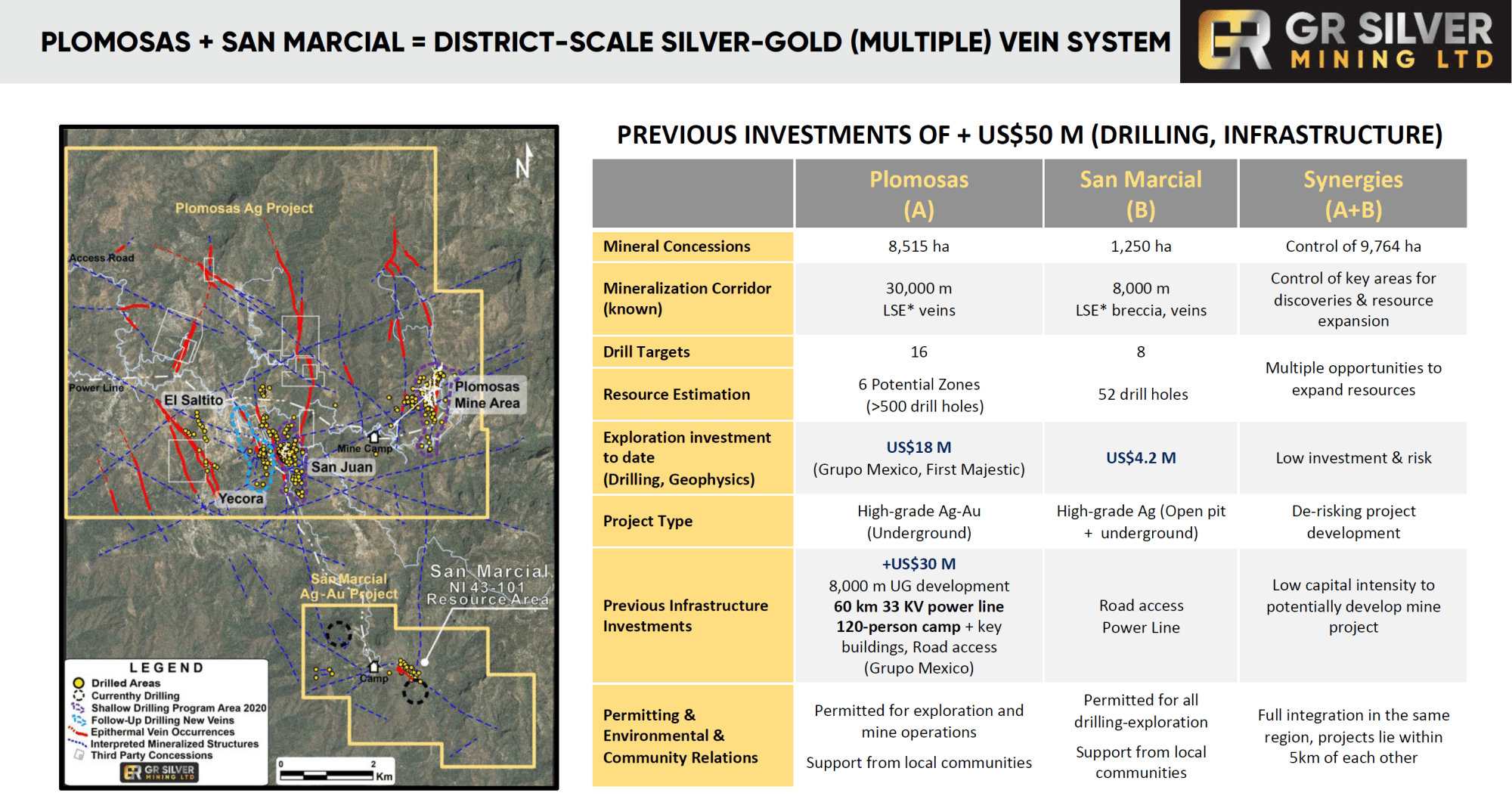 Bill: So to recap where we are in our discussion at this point, we have an NI 43-101 resource for 40 million ounces of silver, and we have huge exploration potential in which you own 100% of these projects. With that in mind, two years from now, where is GR Silver Mining going to be, if everything goes as planned?
Marcio: In two years from now, the vision in the businesses is to integrate both products, Plomosas, which has all the permits and it can have all the infrastructure with San Marcial, and define a much larger resource with adding the six areas of drill holes to the one area that we have 40 million ounces. You can see the potential to multiply the size there and do some economics to show how attractive the combined project is for potential acquisitions and receive a premium from other silver producers.
Bill: So the strategy is to sell off the projects?
Marcio: I will be honest is that's the first strategy at this stage.
Bill: And the treasury, you just topped it off recently, as we said, with CAD$9 million. How far will that take you?
Marcio: That can take us easily for the next two years. And on top of that, all the warrants and options are in the money with the recent rally in the share price, but still some legs to go up, compared to other peers in the district. So we are fully funded for all we need to do.
Bill: What do you think are some of the key things that could go wrong and derail your plans? Is it the Mexican government, or issues with COVID-19?
Marcio: I'm familiar with operating in Mexico for a long time. Mexico's a mining country. It's the largest silver producer in the world. Of course, there's always some discussions about potential risks related to increasing tax. So that can be an area to be watching for. And the way we address that risk is finding high quality assets of high grade and high margin. If there's an increase in taxes, we can still be profitable as a project, right? The COVID, the pandemic, we are in an area that particularly the project area, we have zero cases. The coastline is where most of the cases are, which is typical for now birds from the US and Canada to spend the winter there.
But most of the employees and drillers and field workers and geologists are living nearby. So we have limited the flow of external people. So that's a point, of course, everybody has been tested. It's clean. Having a management that's fluent in Spanish, bilingual, that helps them remote manage the situation. But of course the pandemic and the way it is going to continue to be an important variable, it's something to watch, a potential risk.
Bill: You have an advantage also in that your cost of drilling is quite low, isn't it?
Marcio: Yeah. We team up with some local drillers in a way to reduce mobilization. We have really implemented a way to employ local people to be trained as drillers, instead of bringing people from outside. That favors the relationship with the community as well, to increase employment and social relationship. So that's a way to really, for each dollar that you raise, you can do more than it would be drilling in Canada in US. Of course, the cost of drilling and the exchange that helps a lot.
Bill: Other than the silver price, the catalyst that investors should be looking for will it be drill results and an upcoming resource estimate?
Marcio: That's right. But the upcoming resource is more end of the year, early next year, but the consistent flow of news is going to be something very visible for this company, not only because we have these 500+ drill holes that we have released only a hundred so far, but we, one drill rig on site and we are about to receive two more drill rigs.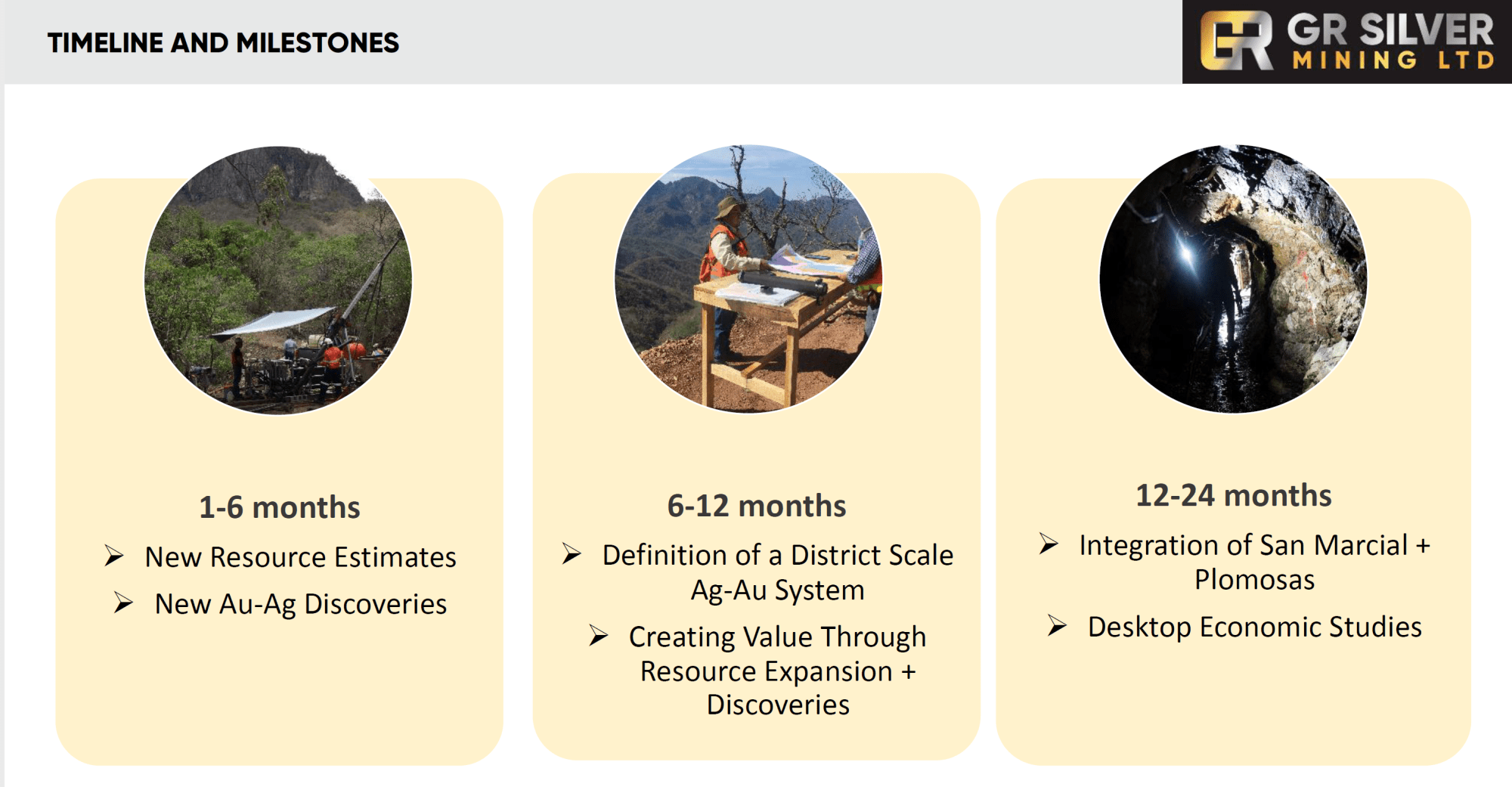 Bill: You have historic holes from that you're gathered from First Majestic which they didn't release and new holes that you're going to be poking into the ground?
Marcio: That's right. But the First Majestic holes are important to mention that they are drill holes drilled in 2016, 2017, and 2018, not that old.
Bill: And they didn't release them because they were busy with other things, and it may have not been material to them, but for you being a junior it's material news.
Marcio: For, sure. Yeah. I'll give an example. There are a couple of holes with 11 meters with more than one kilo of silver. They are material for a company of this magnitude.
Bill: As we conclude any final thoughts that you'd like to leave with the investors listening to us?
Marcio: In a snapshot, this company is a resource-expansion development-stage probably in two years, but the next two years, a lot of drill hole results, resource expansion, defining ounces, adding ounces of silver and gold to the inventory of ounces that we have today which is 40 million silver ounces. And the way we are going to do is to continue to drill along the strike and expanding what we know about mineralized zones, and continue to consolidate the district, and discovering more veins of high-grade silver and gold veins.