from Zero Hedge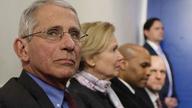 With the science behind the use of hydroxychloroquine (HCQ) to treat COVID-19 far from settled, more than a few people have noted the aggressive campaign against the widely-prescribed anti-malaria drug.
The anti-HCQ push has infected Silicon Valley as well – as tech giants have been labeling pro-hydroxychloroquine content as 'misinformation' – most recently banishing a press conference by a group of doctors touting the drug from just about every platform.
To that end, Yale epidemiologist Dr. Harvey Risch has accused Dr. Anthony Fouci of waging a "misinformation campaign" against the drug, according to Just The News.
Continue Reading at ZeroHedge.com…