from Zero Hedge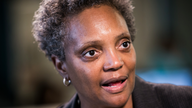 They say that if you repeat the same lie enough times, you start to believe it.
And so it is with progressive Democrats and their continued refusal to acknowledge the true depth of the violence unleashed during the protests. Chicago experienced one of its deadliest weekends of violence in recent memory, but you would never guess by reading the coverage by the New York Times and Washington Post.
A particularly disturbing example of this phenomenon has just emerged out of Chicago, where a recording from a meeting between Mayor Lori Lightfoot and the City Council, where one of the mayor's chief critics, Raymond Lopez, a fellow Democrat who was the first openly gay Mexican-American elected to public office in Illinois, accused her of not doing enough to quell the violence.