In this interview, CEO Greg Crowe provides an update on Silver One Resources' pursuit of high-grade silver discoveries at the company's Candelaria and Cherokee projects in Nevada as well as the Phoenix Silver project in Arizona. The Candelaria project already has a historic silver resource of 127 million silver ounces as well much prospectivity for further discovery as the recent drill results demonstrate. The Cherokee project is a 12 km long x 4 km wide structurally controlled Ag-Cu-Au epithermal system.
The project has already yielded select surface samples of high-grade silver, gold and copper values up to 1,895 g/t Ag, 4.8% Cu and 2.0 g/t Au. The Phoenix Silver project has already returned an astounding grab sample of 459,000 gm/tonne (14,688 oz/ton) assay result from a 18.7 lb (8.5 kg) native silver vein fragment. Also, discovered was a large 417 lb silver vein fragment that was not assayed due to the desire to preserve the specimen nature of this sample. These silver vein fragments are interpreted to have been transported short distances downslope from partially exposed vein structures, have been found in numerous areas throughout the property. Silver One is exploring this project with the hopes of fully uncovering the high-grade silver veins and proving out an economic deposit.
Click Here to Listen to the Audio
Continue Reading at MiningStockEducation.com…
0:00 Introduction
1:45 Candelaria project update (Nevada's highest-grade past producing silver mine)
7:50 Determining where to spend money at Candelaria
9:52 Cherokee project update (pursuing high-grade silver discovery in Nevada)
13:26 Phoenix project update (pursuing the source veins of high-grade native silver fragments)
18:10 Possible COVID delays in H2 2020?
19:00 Have you been receiving inbound calls from possible JV partners?
19:41 Philosophy of purchasing projects with shares not cash
TSXV:SVE OTC:SLVRF FSE:BRK1
Silver One's June 2020 presentation: https://www.silverone.com/site/assets/files/2494/2020-06-sve-cp.pdf
TRANSCRIPT:
Bill Powers: Greg, thank you for joining me again. And could you give us an update on what's going on at the Candelaria project there in Nevada?
Greg Crowe: I guess the last time we spoke was at the big PDAC convention in Toronto, in early March. And the world has changed significantly since that time, which has been interesting with respect to precious metal prices. And we're seeing a silver backup over $18 today and gold approaching its all time high. And we anticipate that that situation is going to carry on for the foreseeable future. But that's beside the point, what's happened with Silver One, you were there on a site tour at Candelaria, which is our flagship project, past producing silver mine in the State of Nevada, historically one of the highest grade silver mines in the State. It went into open pit operation in the seventies, eighties and nineties, and shut down in late nineties with the collapse of silver prices and got sold off from Kinross to Silver Standard, who we did a deal with in 2016. Been looking at the project in the last couple of years and we've been trying to assess how best to rehabilitate the historic Candelaria mine project.
And there's several components to the project, which makes it extremely interesting. And some of those components include looking at the old heap leach pads that have a historic resource in excess of 48 million ounces of silver. We've been doing some metallurgical studies with the idea of, can we bring those back into production? Those studies are ongoing and as silver prices improve, I think we're going to be able to move forward on that and we'll just see how those silver markets are going to behave. But more recently, what we did was we looked at the, in-situ hard rock mineralization, where there was historically over 44 million ounces of silver measured and indicated and an additional 31 million ounces at the inferred historically. So we went in and we started doing some drilling and we drilled a program starting last November and we finished up actually in March, April of this year. And we put out some of the results. I think the key points are that we did confirm down dip high grade mineralization.
Silver Standard when they had done their drilling, they didn't really focus on that, but they had intersected many values greater than 300 grams per ton silver. Now, for your audience, 300 grams per ton silver could be mineable from an underground perspective. And don't forget that Candelaria was mined all by open pit in the latter years of its operation. So we went after some of that to see, could we outline a high grade zone that would be amenable to underground mining and really augment the story at Candelaria. We did confirm multiple high grade hits. For instance, we had values of 1100 grams per ton, over a couple of meters, over eight meters within about a 30 meter interval, greater than 350 grams per ton silver. So we've outlined an interesting zone. It's going to require some more drilling to really put an updated resource on that underground high grade zone. What we also did was confirmed extensions of the open pit lower grade mineralization, which would be more accessible by open pit mining and expansions of the previous open pits.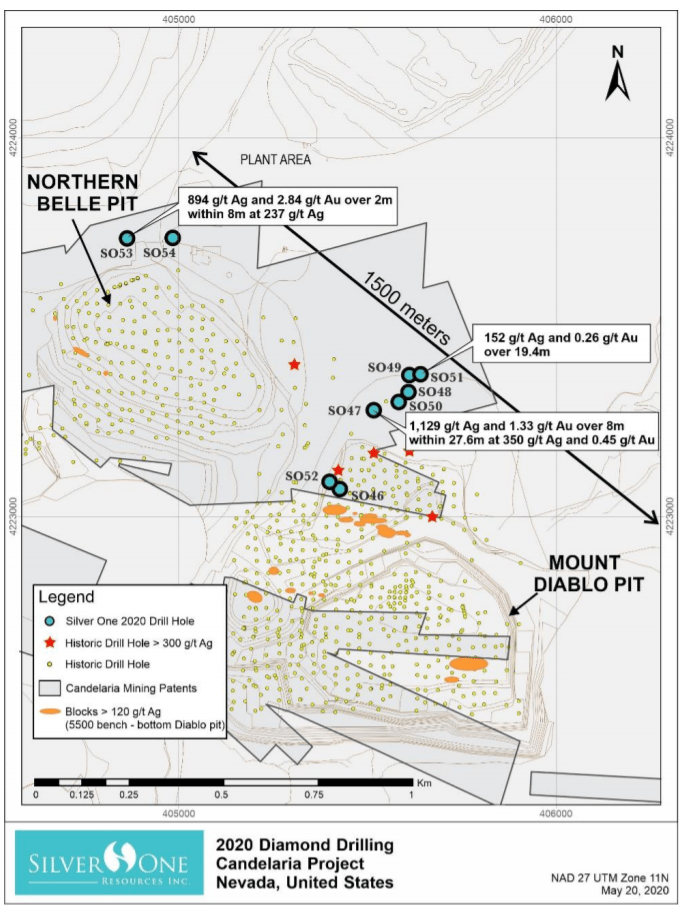 So all that's ongoing and we need to do some more drilling to update that 43-101 historic resource. And that's part of the focus going forward on Candelaria, but not to diminish the aspect of the potential silver mineralization around the old pits and down dip high-grade. There's another component to Candelaria that was not previously considered and off to the West of the open pits, there's all sorts of historic workings and to the East as well. But particularly to the West and around those historic workings, we're getting some samples coming off the old dumps from some of the deeper shafts. And we're finding interesting copper mineralization as well as silver and gold. And it looks like there could be what's called an IOCG component to the deeper sources of mineralization that's iron oxide, silver gold. These are potentially big tonnage deposits.
The samples that we took off the dumps assayed up to 2.5% copper, about 45 grams per ton silver and about 0.6 grams per ton gold. So it could be very interesting. Nearby we have another situation to the North of us called Nevada Copper, it's a Pumpkin Hollow project that went into production on these types of deposits late last year. So lots of upside potential at Candelaria, lots of exploration potential going forward. We're continuing with our metallurgical studies and later this year, we're going to be back doing some more exploration. We might get a drill in there again later this year or early next year. We'll just see how COVID situation materializes going forward.
Bill: Greg, when I was on the tour with the fellow analysts, they were impressed with the size of the project and all the different possibilities. You mentioned copper, the known silver, the heaps, old workings. I mean, there were the several open pits that you can see. One of them just humongous, the Diablo pit, and you could spend $50 million on exploration over 18 months here no problem. When you're looking at this project, what do you use to determine where you're going to spend the money next?
Greg: Well, essentially one thing that's important are silver prices, silver markets, et cetera. We would like to consider as an early stage opportunity bringing the old leach pads back into production. That essentially, as I said, just under 50 million ounces of silver still sits on those leach pads at very compelling grades, about 45 grams per ton on average, no mining costs associated with that. We'd like to see $20 silver before we're going to make a decision on that and we need to do a bit more metallurgical work to enhance the potential recoveries of silver from those heaps, but that's what we're working on. If we can do that as an early stage, then that would really set the tone for increasing the, or potentially increasing the amount of mineralization, just marginal pits, which would be easy access from the open pits and then of course that down dip really deep high grade.
The other target, which is the deeper copper, silver, gold target, very compelling, that's a little bit longer in the development schedule, but we'd like to do some test holes on it in the not too distant future to see is there really potential there.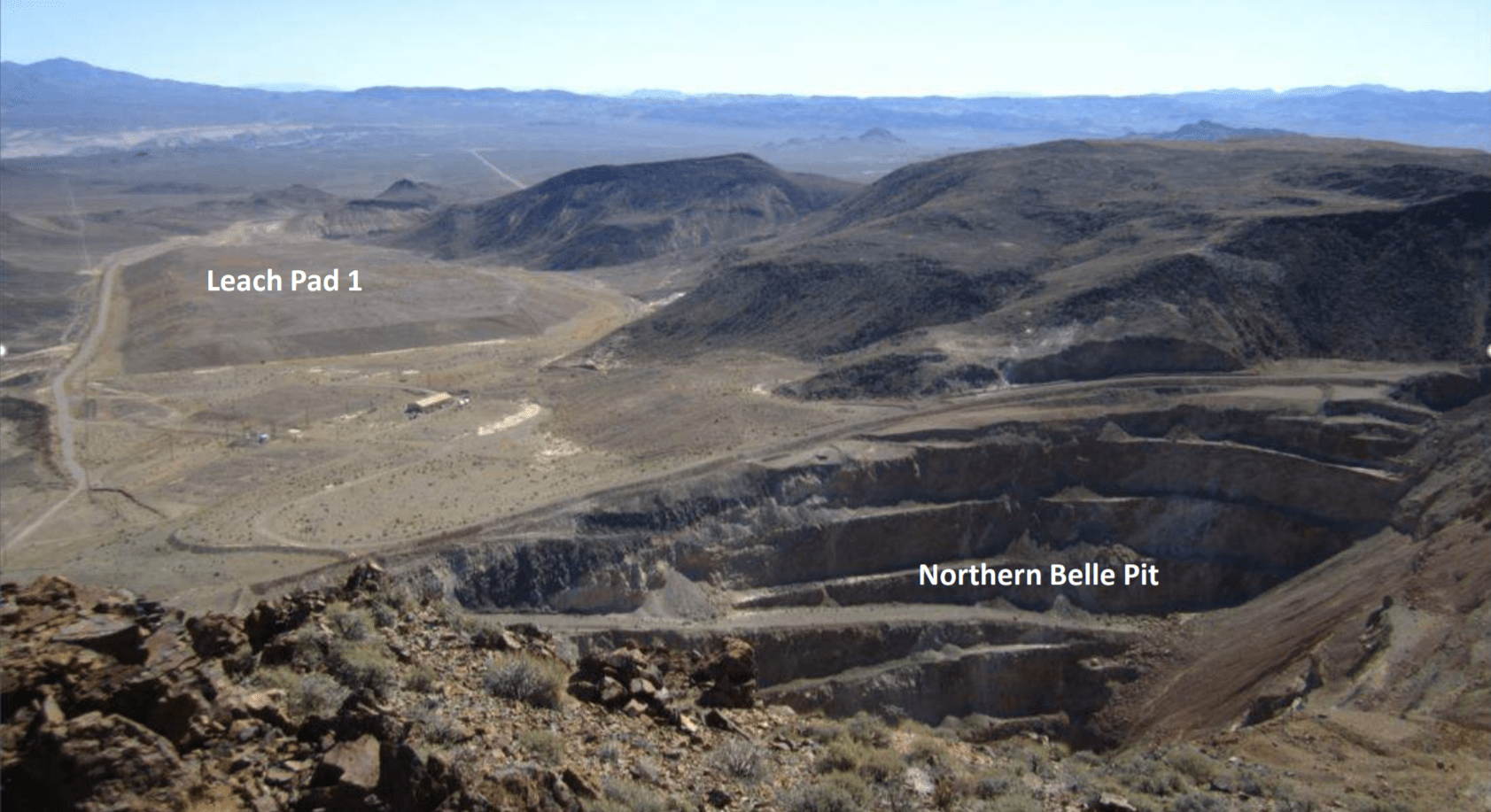 Bill: And with the heaps, that would be the closest near term cashflow possibility for the company?
Greg: Yeah. And that's dependent upon a healthy silver price, shall we say.
Bill: So you put out press releases at your Cherokee project in Nevada. Can you talk us through this?
Greg: Cherokee was an opportunity that came out of a little bit of research. We found a reference in one of the old mining journals to a project which had historically produced in the thousands of grams per ton silver, that's back in the late 1800s. So we went ahead and look at it and we identified the right setting. It's called an epithermal setting that hosts a lot of the precious metal, gold and silver mines, not only in Nevada, but around the world. So we went and we looked at it and we traced some pretty powerful vein systems up to three, four meters wide on surface for over 12 kilometers along strike. The ground was opened, we staked the entire project, bought the patent and claim, so we now have 100% ownership. Then we started some pretty detailed sampling around the old Cherokee mine itself. We have multiple surface samples, have to emphasize there's been no drilling on the property except in the very Southeast corner where back in the 1980s, they drilled for a deeper buried porphyry molybdenum target.
So none of these rich veins have had any drilling whatsoever. In the Cherokee area, we did lots of surface sampling. We've gotten values up to 950 grams per ton silver, 4.8% copper. In the Southern part where multiple veins come together, we're seeing something called the hidden treasure area, getting some surface select samples in the range of 1800 grams per ton silver and two grams per ton gold, which is extremely interesting. We went in last year, we flew the property and did an airborne magnetometer survey, from that we outlined a potential buried intrusive, which could be the source of all the mineralization in the very Southeast corner of the project near where they drilled for porphyry molybdenum deposits. And outward from that are all these veins and alteration systems. We went in and we did some more mapping and sampling late last year into early this year.
And we discovered two new zones, the Viola and the Garden Mountain area, marginal to this buried intrusive surface sampling. And returning very elevated gold, silver and copper values and molybdenum in the Viola area where they're drilling. So we want to go back this year, later this year, do some more surface sampling to look at potentially upgrading those targets to the drill stage, but also thinking about, and we'll make an announcement on this in the coming months. Actually drilling some of those really high grade veins at the old Cherokee mine. So that's what we're doing in Cherokee.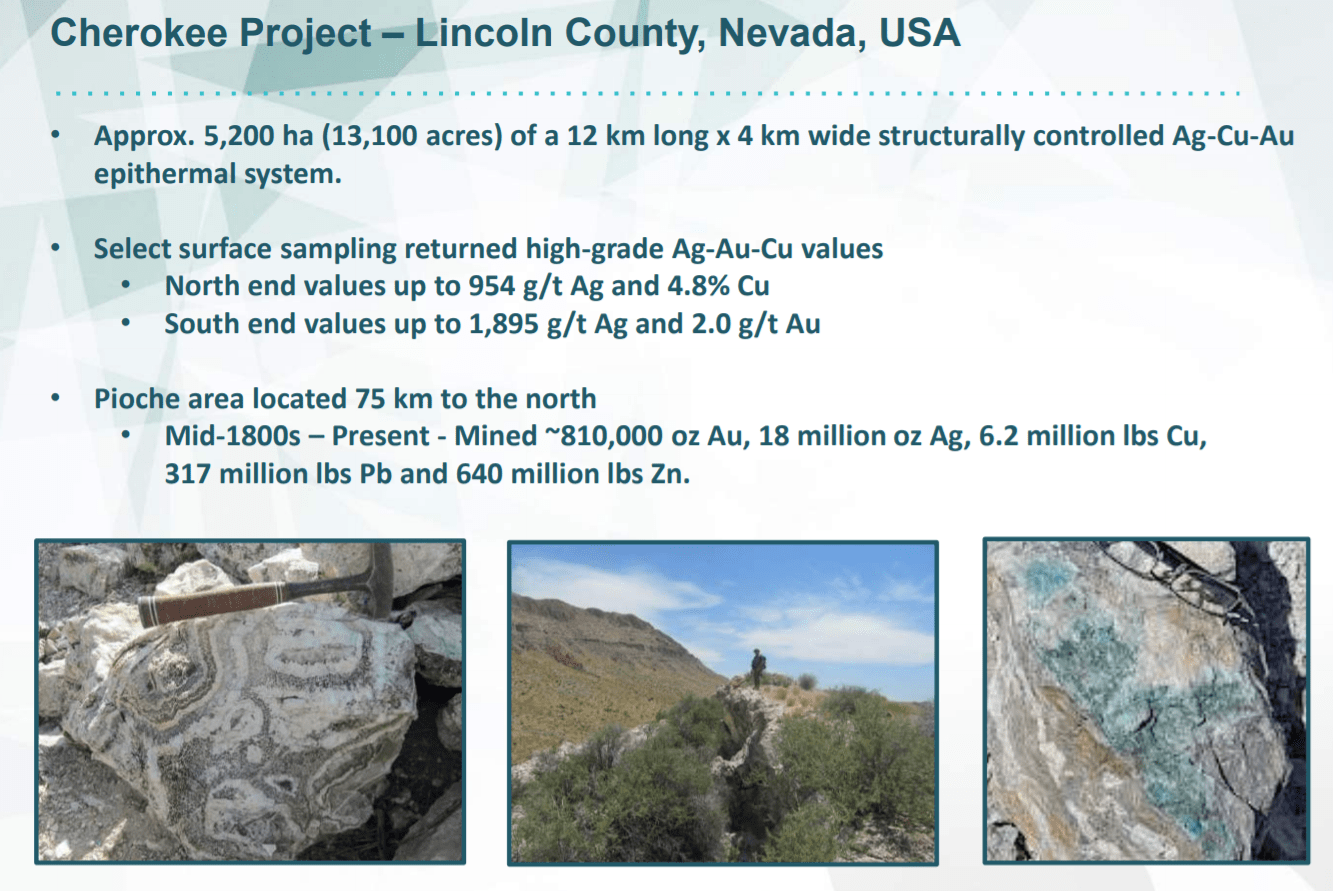 Bill: And at this project, if I remember correctly, you can actually drill in the winter if you want. Is that correct?
Greg: This one here, there's probably a couple of months we couldn't drill, it's a little bit higher elevation in Candelaria. Candelaria unless it is an extremely anomalous year with tons of snow like we had about three or four years ago, you can work Candelaria all year round. Cherokee, probably a couple of months we can't get in there only because the snow's at the high elevation.
Bill: You also have the Phoenix silver project, which we focused on the majority of our last conversation, just absolutely stunning results. One specimen was an over 400 pound sample of up to 70% native silver. That's using a specific gravity method, so we got to put that out there it's not an NI 43-101 compliant because it's a collector's item. So they're not assaying it for that reason, but finding a fragment like this, lets you know that there has to be a source somewhere on the property. So what are the developments? You're searching for the source of where this big silver chunk came from, what can you tell us here?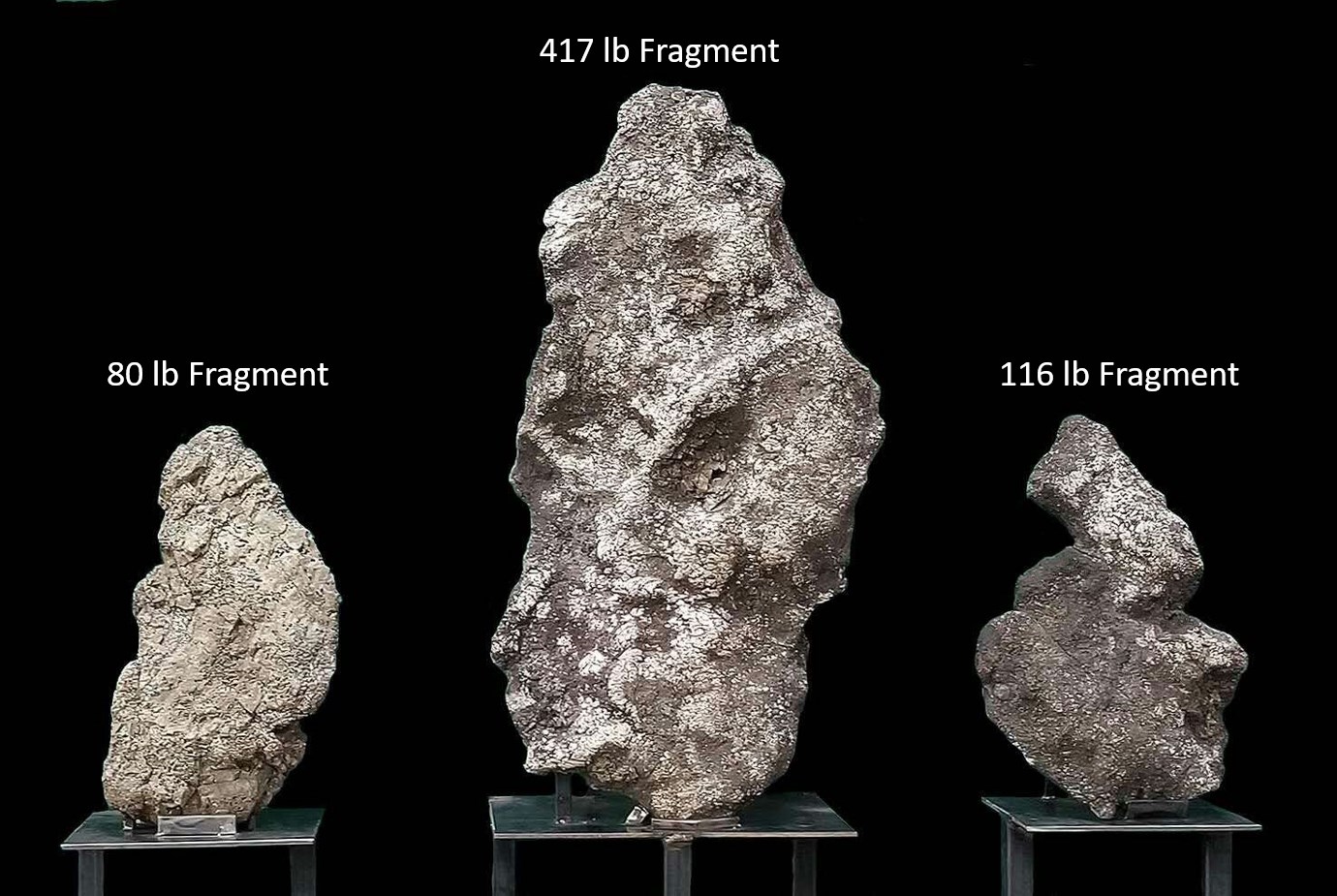 Greg: Yeah, essentially this project was brought to us and we entered into an agreement last January or this recent past January, just prior to COVID with the ability to earn up to 100%. Some prospectors brought the project to us, they found these fragments, which are extremely angular and that is interesting in itself. That not only are they large, but they're angular suggesting they're probably not too far removed from their source. We stake some additional ground, we entered into that agreement, but we did assay some of the smaller fragments, Bill. And one fragment that we actually assayed, which is 43-101 compliant would be returned 459,000 grams per ton, that's 14,600 ounces per ton silver. Which certainly verifies that a specific gravity measurement on the 417 pound unassayed sample. So what we've done is we've gone in, the ground is pretty well, totally covered by overburden. Couple of cuts in a roadway, the prospectors had gone up an old stream bed, which was totally covered and found these fragments with metal detectors.
So our interpretation is they're from East West trending veins up hill from where they found these vein fragments. And why we're saying that is we see the East West trend in the road cuts, but we also know that just off the Eastern margin of our property, historic mines produced native silver in the late 1800s, early 1900s from east-west trending veins. So based on that, we've got a couple of guys ensconced in the town of Globe, which is a big copper producing center, and we're in the silver producing camp just to the North of it. They essentially are socially isolating in the town of Globe, they live in an apartment. They drive out to the property in the morning, they do some sampling, mapping. They put in a nice grid of the area of interest around these vein fragments. We've done some detailed soil sampling, we've done ground geophysics and the next step will be to get in there and do an airborne survey, similar to what we've done at Cherokee and at Candelaria.
With that information, we should be able to say, okay, we're going to target a couple of more areas for more intensive work. Be it trenching, be it drilling, but our goal is to find the source of these fragments. We haven't done the airborne survey yet, we're waiting for the air spaces to open up, but it looks as though we're going to be able to do a drone survey. And if we can do that, we'll get in there a bit earlier. So that information is yet to come out. We're going to start compiling all the information and get some news out to our investors in the not too distant future.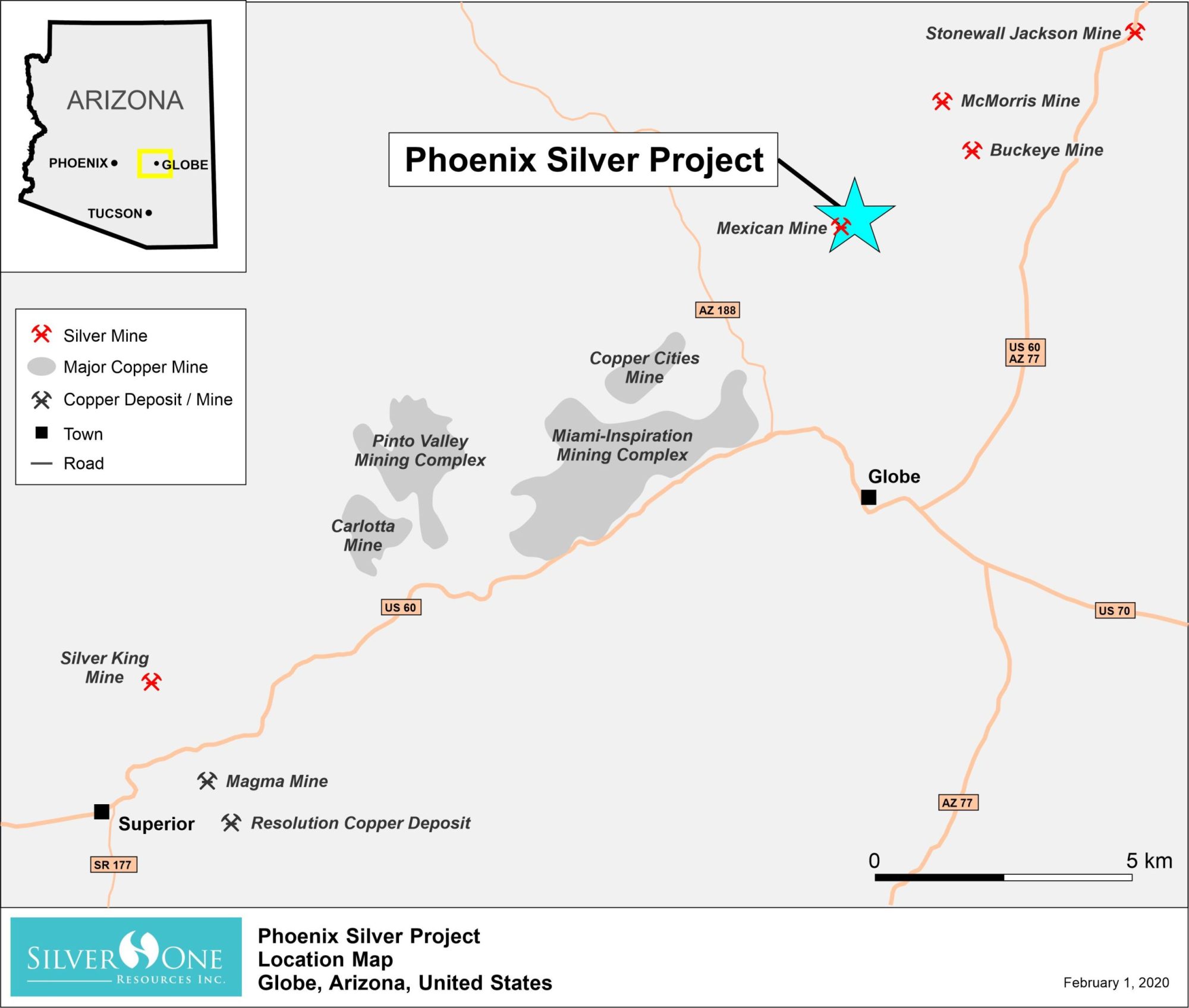 Bill: Would it be fair to say you possibly could have the drills turning by the end of the year or would that be maybe a little bit too ambitious?
Greg: If we find a target, I don't think that's ambitious at all, if we find a target. And that's what we're working on and trying to achieve.
Bill: In Nevada I know that mining was labeled critical infrastructure. Is it the same in Arizona?
Greg: It was labeled critical. I mean, however, with what's happened with COVID, et cetera, it could become critical. We'll just see. Nevada of course is the number one mining jurisdiction in the world. It does compete with other areas around the world like Western Australia and Quebec, but overall it's one of the top mining jurisdictions in the world. Arizona is certainly up there in the top 10, but they think that mining is much more important in Nevada. So let's just see how things go.
Bill: Besides the safety precautions that you referenced already that you're doing in Arizona, could the results of the COVID crisis impact the company any further in the second half of this year?
Greg: Well, if there was a complete recurrence of COVID, shall we say, and Nevada and Arizona start shutting down again, that could impact our ability to get in and do larger programs. But we're optimistic. Hopefully, we're going to turn the corner on this virus and move forward. We're certainly in the right environment for gold and silver, we see economy's taking on unprecedented amounts of debt, which could result down the road in massive inflationary pressures, which is always good for silver and gold.
Bill: So with all the interest in precious metals and people seeing the writing on the wall, that everything seems to be pointing that the precious metals are going higher. You have so much prospectivity at these three projects. Have you been getting any calls from some majors or mid tiers about a possible joint venture?
Greg: We've had some interesting inquiries and we've had some site visits and we'll just take it one step at a time.
Bill: And any update on the projects in Mexico, anything happening there?
Greg: No. We put those back on hold. I mean, we have a company with a certain budget and we have to prioritize our spending and we're concentrating more on Nevada and Arizona, which I think are fantastic jurisdictions to work in.
Bill: And one more thing, Greg, I just want listeners to get an understanding of your philosophy and how you run the company. One thing that you often do when you negotiate deals with partners, whether it's purchasing a project with the Candelaria project or this new Phoenix silver project. You structure it so that you have minimal cash, if any out of pocket and you use shares, can you just share with investors listening to us what's your philosophy here?
Greg: Yeah, essentially. I mean, cash is hard to come by and it was certainly hard to come by over the last three or four years when very few junior resource companies were actually able to finance. So our original deal on Candelaria, which we did in early 2017 was with Silver Standard. And we structured the deal such that there would be four equal payments of US $1 million each in Silver One shares, no cash. That would give us 100%. They seemed quite content with that and they seemed quite happy with taking Silver One shares. We did a similar deal show, we say on our Phoenix silver project, essentially the only cash we paid was to reimburse their previous staking and exploration costs, which amounted to about $350,000. Otherwise, it's a total share deal over four years, allows us a couple of years with issuance of few shares to get in and evaluate the project. If we like it, we move forward and they get a lot of shares. If we don't like it, we move on to somewhere else. Cherokee was essentially a staking project. So we got 100% interest with minimal cash out.
Bill: The website again is silverone.com and the ticker in Toronto, SVE, in New York, SLVRF, and in Frankfurt, BRK1. You've been listening to Greg Crowe, the president and CEO of Silver One Resources. Greg, thanks for coming on today's show and giving us an update.
Greg: Thanks Bill. Anytime.