from Zero Hedge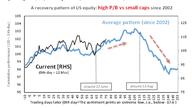 Global equity markets dropped steeply yesterday, with Nomura quant Masanari Takada summarizing that this probably indicates "that the bulls and the bears are deadlocked, and that it is best not to let one's decisions be swayed too much by day-to-day market fluctuations." However, Takada adds that it is important to properly understand what is going on, if only from a purely positioning and short-term quantitative strategic viewpoint.
Below he explains what was behind the sell-off and what one should do about it.
For better or worse, investor sentiment has been deadlocked between its bullish and bearish impulses. Into the context of this stalemate in sentiment came market-negative headlines concerning a second wave of the coronavirus pandemic and trade tensions between the US and Europe. The news flow caused the balance of sentiment to break down and tilt to the bearish side. However, according to the quant, other causes explain why the drop in US stocks was so steep.
Continue Reading at ZeroHedge.com…