by Joshua Caplan
Breitbart.com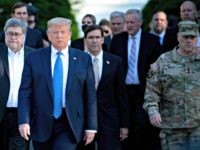 Joint Chiefs of Staff Chairman Mark Milley on Thursday apologized for accompanying President Donald Trump on his walk to St. John's Episcopal Church earlier June.
"My presence in that moment and in that environment created a perception of the military involved in domestic politics," Milley told National Defense University graduates in a pre-recorded speech. "As a commissioned uniformed officer, it was a mistake that I have learned from, and I sincerely hope we all can learn from it."
Milley, Secretary of Defense Mark Esper, and Attorney General William Barr accompanied President Trump to Lafayette Square after protesters were cleared from the park. Democrats and the corporate media accused law enforcement of deploying tear gas against the protesters, a claim shot down by the U.S. Park Police.