by Pam Martens and Russ Martens
Wall Street on Parade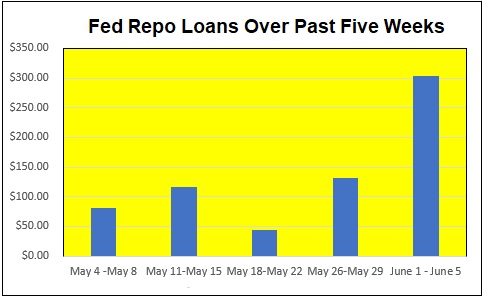 The Federal Reserve is desperately hoping that the pandemic, the coast-to-coast protests and the military generals' scathing rebuke of the President's plan to "dominate" grannies and college kids with bayonets and Black Hawk helicopters in the streets would distract the public from its money-feeding tube to Wall Street.
Unfortunately for the Fed, Americans can multitask.
Between Monday and Friday of last week, the Fed made $304.20 billion in repo loans to Wall Street's trading houses. That was 230 percent of what it made the week before and 700 percent of what it loaned the week before that. (See chart above.) This would suggest that the liquidity crisis is heating up and/or that it's taking ever larger amounts to levitate the stock market as sellers come back in.