by Pam Martens and Russ Martens
Wall Street on Parade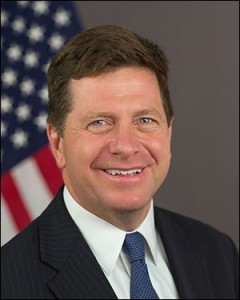 The Investor Protection, Entrepreneurship, and Capital Markets Subcommittee of the House Financial Services Committee convened a hearing today on capital markets with the Chair of the Securities and Exchange Commission, Jay Clayton. The hearing had been scheduled prior to last Friday evening's abrupt and controversial sacking of the U.S. Attorney for the Southern District of New York, Geoffrey Berman, by Attorney General William Barr and President Donald Trump. A statement released by Barr on Friday night stated that the President would be nominating Clayton to fill the post. Clayton has no prior experience as a prosecutor and would be taking over one of the most important federal prosecutor's offices in the country.
That office currently has ongoing investigations of Deutsche Bank, the President's longstanding business lender; the President's lawyer, Rudy Giuliani, and his associates; and potentially Wall Street cases being defended by Clayton's former employer of two decades, the law firm Sullivan & Cromwell. (See U.S. Attorney Geoffrey Berman's Ouster: The Untold Story.)