from Zero Hedge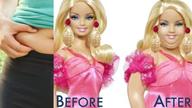 Months of coronavirus lockdowns have resulted in the average American body weight to increase by about five extra pounds, a new survey found.
With gyms, yoga and spin studios, and recreational facilities closed in most parts of the country; many were forced to "Netflix and quarantine" for several months.
The study, commissioned by Naked Nutrition, a firm that sells dietary supplements, surveyed 2,000 Americans and found at least half who said they would never get their pre-corona body back.