by Pam Martens and Russ Martens
Wall Street on Parade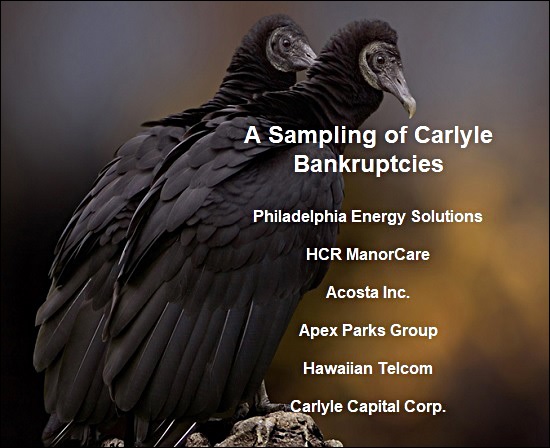 Private equity funds have been variously called "merchants of debt," "vultures," or "corporate raiders." What a private equity fund typically does is to buy up companies by piling debt on the balance sheet, selling off valuable assets like real estate, extracting giant dividends for the private equity partners to the detriment of workers and customers, and then, frequently, letting the company collapse into bankruptcy while laying off thousands of workers or liquidating the whole company.
It should give pause to every American that the two top men at the Federal Reserve who are implementing a new $4.54 trillion bailout fund for Wall Street, using $454 billion from taxpayers to absorb the losses, both got rich working for one of the world's largest such private equity firms: the Carlyle Group.
According to his official bio, Fed Chairman Jerome Powell was a partner at the Carlyle Group from 1997 to 2005. In November 2017, Stephen Gandel, writing for Bloomberg News, calculated that Powell's wealth could be as much as $112 million.
Continue Reading at WallStreetOnParade.com…