from Zero Hedge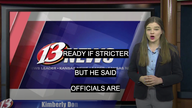 As states reopen their economies this spring and likely into summer, new threats are emerging that another round of shutdowns could be seen in the second half of the year, which would coincide with the upcoming presidential election.
This time, the closures will not be about "flattening the curve" but rather about politics and damaging the president's election odds, as the cover to keep non-essential businesses and schools closed is the lack of a proven vaccine.
This is currently unfolding in Kansas as state officials are convinced a possible second stay-at-home order could be managed much better than before, reported WIBW.
Continue Reading at ZeroHedge.com…