by Pam Martens and Russ Martens
Wall Street on Parade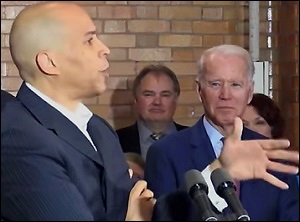 There has been the feeling of an invisible hand in the miraculous comeback of Democratic presidential candidate Joe Biden. Biden lost all three of the first races in Iowa, New Hampshire and Nevada, then spiraled to a long series of state victories despite a lackluster and sometimes rambling performance in the presidential debates.
Since the invisible hand in unlikely elections always has a money trail somewhere, we decided to pull back the dark curtain using campaign financing data at the Center for Responsive Politics (OpenSecrets.org). The name of the giant Wall Street law firm – Paul, Weiss, Rifkind, Wharton & Garrison LLP – emerges as a common denominator.
Paul Weiss has not only been a major donor to the Biden campaign but it was simultaneously a major donor to the campaigns of the four presidential candidates who dropped out of the race and then endorsed Biden at critical moments in his miraculous resuscitation.