[Ed. Note: If the economy is destroyed, we'll see a lot more than 1-2% of the population sacrificed.]
from Zero Hedge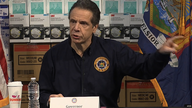 Over the past two days, the number of confirmed coronavirus cases and deaths has seen the largest jump on record, even as the number of newly reported cases plateaus in Europe, as New York and a handful of other US states ramp up testing. On Monday, the US was hardest hit, with states adding 10,168 cases, the largest single-day increase for any country outside of China.
And for the first time, the US recorded more than 100 new deaths in a single day, including the first recorded death in Hawaii. The individual, who died on Friday, was an adult from the island of Oahu suffering from "multiple underlying health conditions."
As a result, at least 16 states have issued stay-at-home orders, which, once in effect, will impact 142 million people, or 43% of the US population, CNN reports.
Continue Reading at ZeroHedge.com…