by Charles Hugh Smith
Of Two Minds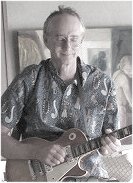 The Fed must now accept responsibility for what happens in the end-game of the Moral-Hazard Monster Bubble it created.
Contrary to popular opinion, the Federal Reserve didn't set out to create a Monster Bubble that has escaped its control. Also contrary to popular opinion, the Fed will be unable to "never let stocks fall ever again–ever!" for the simple reason that the monster it has created– a monster mania of moral hazard in which all risk has vanished because the Fed will never let stocks fall ever again–ever!–is now beyond its control.
And that's a problem for the Fed, which above all else needs control of interest rates, financial markets and the economy.
The problem is that bubbles always pop, and they pop regardless of what central banks do. This is contrary to the popular opinion that if only the Fed had saved Lehman Brothers, the Global Financial Meltdown of 2008 would never have happened.
Continue Reading at OfTwoMinds.com…