by Pam Martens and Russ Martens
Wall Street on Parade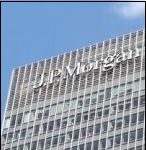 Yesterday, Bloomberg News reporters Tom Schoenberg and Liam Vaughan broke the story that JPMorgan Chase is under a criminal probe by the U.S. Department of Justice (DOJ) over charges of rigging gold, silver and other precious metals markets. Six traders who worked on the precious metals desk at JPMorgan Chase have been indicted thus far but this is the first report that the bank itself is also under a criminal investigation. This marks the fourth criminal probe of the bank in the past 8 years by the U.S. Department of Justice with the bank pleading guilty to three felony counts in two of the prior criminal investigations.
Throughout this serial crime wave, the Board of Directors of JPMorgan Chase has kept Jamie Dimon in his seat as Chairman and CEO. Despite knowing that three of the bank's traders had been charged under the criminal RICO statute and that the investigation could very likely result in criminal charges against the recidivist bank itself, the Board recently awarded Dimon a pay package of $31.5 million for last year – buttressing presidential candidate Bernie Sanders' message that the business model of Wall Street is fraud.
Continue Reading at WallStreetOnParade.com…