by Pam Martens and Russ Martens
Wall Street on Parade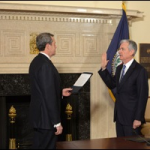 The Chairman of the Federal Reserve, Jerome (Jay) Powell, regularly states at his press conferences that the Federal Reserve is there to serve the interests of the American people. But his actions regularly undermine the credibility of that statement in a manner not all that dissimilar to Alan Greenspan, whose Fed chairmanship oversaw the gutting of Wall Street banking regulations and ended just before the greatest Wall Street collapse since the Great Depression.
Powell goes out of his way to present himself at his press conferences as the quintessential public servant whose only mission is to perform the mandate set out by the elected representatives in Congress while his actions strongly suggest he is a wily rogue agent for Wall Street's cartel of bank trading houses.
Continue Reading at WallStreetOnParade.com…